Lake George
Lake George sits in the Pike National Forest west of Ute Pass. The town got its start as a stage stop but soon became a hub for the Colorado Midland Railroad from Colorado Springs. Located about 37 miles west of Colorado Springs, the natural areas near Lake George have plenty to offer vacationers.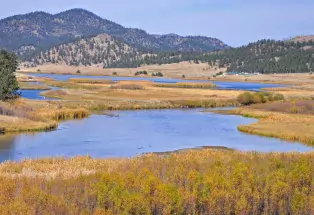 While world-class trout fishing is the main attraction, adventures also include viewing fossils and petrified redwoods at nearby Florissant Fossil Beds National Monument, as well as scenic and historic auto tours of Elevenmile Canyon and the Tarryall Valley. The actual town of Lake George contains a general store and a motel. Other lodging includes secluded cabins and guest lodges near town. Public campgrounds are also located in nearby Elevenmile Canyon and Eleven Mile State Park.
From Lake George, it's just a short drive to the popular state park and reservoir. Here guests can camp, boat and fish, or hike on the five miles of trails surrounding the reservoir. Swimming and water skiing are prohibited, however, because the reservoir is a major water supply for Denver. While local water spots are renowned among anglers, birders love the abundance of wildlife. A lack of light pollution makes the Lake George area a prime spot to view the night sky.
Head to Wilkerson Pass Visitor Center on US 24 12 miles west of Lake George, where a scenic overlook opens up to South Park and the Sawatch and Mosquito mountain ranges, and picnic grounds make for a good stopping point.
Other Cities in the Region