Garden of the Gods: 6 Fun Things to Do
Garden of the Gods is one of Colorado's most popular — and free! — attractions. Located right in Colorado Springs, its gravity-defying whimsical rock formations inspire imaginations of all ages.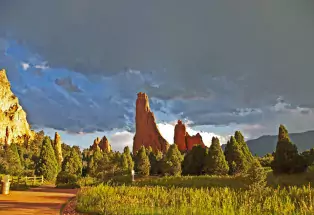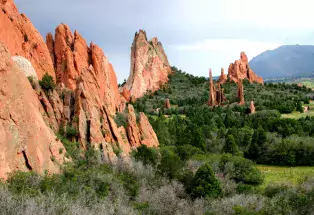 A National Natural Landmark since 1971, the public park dazzles hikers, bikers, photographers, horseback riders, picnickers, wildlife watchers, scenic drivers and others with its spectacular red-rock formations and views of Pikes Peak, and is one of 10 not-to-miss experiences in Colorado Springs.
Open year-round, there's always something fun going on in the park. Add these ideas to your family's itinerary:
1. Hiking & Walking at Garden of the Gods
Pick up a map at the Garden of the Gods Visitor and Nature Center when you first arrive. Fifteen miles of trails wind through the park and range from easy loops to moderate 3-milers. The paved Perkins Central Garden Trail is a favorite of those just out for a stroll and is wheelchair- and stroller-accessible. For those wishing for a little commentary, the park hosts free 30-minute naturalist-led tours at 10am and 2pm each day year-round.
2. Camping
Just a mile from the park, Garden of the Gods Campground & RV Resort makes a great jumping-off point to explore all the natural attractions in the region. With family-friendly amenities like a swimming pool, dog park, playground, game room and Wi-Fi, you might be tempted never to leave its campus.
3. Jeep & Segway Tours
For a fee, Adventures Out West's Garden of the Gods/Foothills Jeep Tour takes you through the landmark, as well as other Colorado Springs-area highlights, including Helen Hunt Falls and the historic districts of Old Colorado City and Manitou Springs. They also offer Segway tours, which train guests how to ride the two-wheeled wonders before heading out to a one- or two-hour adventure through the park.
4. Horseback Riding
Academy Riding Stables in Colorado Springs offers one-, two- and two-and-a-half-hour horseback rides through the park during the summer months. Great for the whole family and all levels of riders, the ride guides you by some of its most popular landmarks, including Kissing Camels, Siamese Twins and Sleeping Giant. Thursdays from Labor Day through Memorial Day, they offer a two-and-a-half-hour ride around the park's perimeter.
5. Gift Shop & Cafes
The Garden of the Gods Trading Post's galleries feature works by local artists, Navajo rugs, pueblo pottery as well as Colorado gifts and souvenirs. Its Balanced Rock Cafe (named after everyone's favorite rock formation), has lunch or snacks to keep you fueled up for the park's trails. The visitor and nature center also has a cafe. Grab a spot on the patio for great views of the park and Pikes Peak in the distance.
6. Snapping Pics
Photographers find hundreds of Instagram-worthy angles here. Document each unique spire, jagged outcropping and peak, most of which have been given names inspired by their shapes (think Cathedral Spires, Steamboat Rock, Keyhole Window, Tower of Babel and more).
Want More?
There are, of course, many other activities to keep you busy, from drives around the park to full-moon hikes, a junior ranger program, rock climbing and more. Check in at the Garden of the Gods Visitor and Nature Center to get the whole lay of the land.
Read Pikes Peak: Things to See & Do and Royal Gorge: Things to See & Do.
Find other Colorado Springs attractions >>
Learn more about Pikes Peak Country >>
Photo: Flickr/John Fowler.