8 Incredible Horseback Riding Trips in Colorado
Experience Colorado like the early explorers did, when horses were the fastest way to get from point A to point B. Even today, there are many hidden places in that state that a cushy SUV can't take you. From iconic landmarks hidden deep in Colorado's public lands to rocky vistas above the Continental Divide, the list of possibilities for you and your four-hoofed buddy are endless.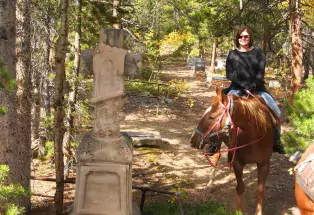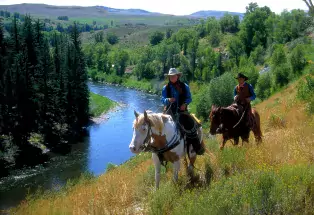 Colorado horseback riding outfitters offer quick day rides and packed multi-day adventures, where every ride is an unforgettable trip into the backcountry — and where guests can enjoy the cowboy lifestyle that Colorado is famous for. Popular with many outfitters are cowboy breakfast rides, rewarding early risers with sizzling skillets and fresh-brewed coffee.
1. Rocky Mountain National Park
There are many ways to relish in Rocky Mountain National Park's unparalleled beauty, but on your next visit don't forget that one of the best ways to cover some serious acreage is via horseback. The menu of options is impressive: Pony up for a ride along rushing rivers and high mountain lakes, get up close and personal with wildlife amid wildflower meadows or ride to the chuck wagon for a mouthwatering steak dinner.
Popular Outfitters: Sombrero Ranches; National Park Gateway Stables
2. Maroon Bells
It's said that the Maroon Bells (actually, two peaks: Maroon Peak and North Maroon Peak) are the most photographed peaks in Colorado; and when you see them, you'll understand why. Give your thirsty horse a drink in the reflective, glass-like lake just below the aspens and conifers framing the often snow-spotted rocky peaks. Make sure to pack a camera in your saddlebag for this postcard-perfect trip near Aspen.
Popular Outfitters: Maroon Bells Stables; Capitol Peak Outfitters; Aspen Wilderness Outfitters
3. Garden of the Gods Park
The spiked red-rock formations at Garden of the Gods were formed more than 230 million years ago — long before horses even arrived in North America. Ideal for beginners, riding on the lands of this geologic marvel is an awe-inspiring experience. Academy Riding Stables in Colorado Springs is the primary outfitter in Garden of the Gods, leading one- to two-hour rides through the park. 
4. Estes Park
While Estes Park is known as the eastern gateway to the beauty of Rocky Mountain National Park, the city itself brims with sprawling valleys, thick forests and glistening alpine lakes. Go trail riding in the shadow of towering peaks and travel through Roosevelt National Forest to spot wildlife like deer, elk and coyotes.
Popular Outfitters: SK Horses; Jackson Stables & Livery
5. Weminuche Wilderness
The Weminuche Wilderness in southwest Colorado is ideal for a passionate horse rider looking to venture into the Wild West near southwestern towns of Durango, Pagosa Springs and Ouray. Trek over rocky peaks along the Continental Divide as they transition into wide, green meadows. As Colorado's largest wilderness area, a multi-day pack trip is recommended for seeing a meaningful chunk of it. Many of the scenic vistas are more than a day's trip from the stables.
Popular Outfitters: San Juan Outfitting; Over the Hill Outfitters
6. Brown's Creek Falls
Combine two things most people love, horses and waterfalls, and you're guaranteed to come away from this trip with a smile on your face with Mt. Princeton Riding Stables. Located in San Isabel National Forest near Salida, the waterfalls along Brown's Creek are a hot spot for hidden-gem seekers in Colorado. Hit the numerous spotted falls along the trail as you gently ascend the valley between Mount Antero and Tabeguache Peak.
7. Historic Routes
Estes Park Outfitters offers an intimate ride (four-person limit) through the historic Homestead Meadows near Rocky Mountain National Park. Imagine yourself as a homesteader in the early 1900s, surrounded by blue skies, fresh-air and breathtaking views, as knowledgeable trial guides relay insight into life back in the day.
A&A Stables in Idaho Springs boasts a spooky 1800s graveyard ride — a truly one-of-a-kind experience on horseback. Other unique trips are the Full Moon Ride and Gambling Spree Rides to Central City's historic downtown.  
8. Colorado's World-Class Dude & Guest Ranches
Dude ranch vacations allow you to check everything off your Colorado bucket list in one location. Take a full leap into good ol' Western fun with unlimited access to spectacular riding programs, whitewater rafting, biking, fishing and relaxing on some of the most secluded lands in the Colorado. Give those saddle-soar legs a rest in private hot springs or schedule a luxurious massage before heading to the campfire for s'mores under a star-soaked sky.
Check out the Colorado Dude Ranch listings to begin planning the perfect dude ranch vacation.
Want more?
Read 5 Inspiring Ways to Horse Around in Colorado, Ways to Explore Colorado's Fall Colors and Wild West Family Fun in Colorado Springs.
Find horseback riding outfitters in Colorado.
Photo Credits: A&A Stables; Colorado Dude & Guest Ranch Association