Ways to Explore Colorado's Fall Colors
Colorado's quintessential tree is the beautiful aspen. We've named towns, streets, dogs — even beer — after this glorious tree. In the summer, the aspens provide shade for our state flower, the columbine, and in the fall, Coloradans rejoice when the aspens' quaking leaves turn their vibrant shades of gold. Colorado offers a few unique ways to explore its fall colors.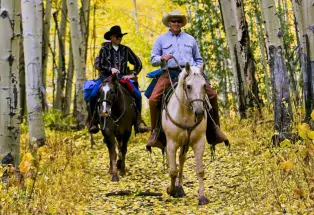 The month of September is the ideal time to witness Colorado fall color, but you have to time it right — the color is fleeting, lasting only a few weeks in different areas of the state. Often, when one portion of the state's color fades, another section of Colorado is just beginning its seasonal change. The best strategy: select your travel dates in advance, but not your destination. Then go wherever the color is. Consider these somewhat different approaches to aspen peeping:
Hot-Air Ballooning
Ballooning in Colorado provides new perspectives on the state's ubiquitous granite pinnacles, rocky spires and the tawny-hues of fall aspens. When you find yourself in a thatched basket, hundreds of feet up in the crisp Colorado air, the colors unfold below in a seemingly unending canvas of yellow and gold. The landscape becomes increasingly intriguing and inspiring while drifting from this high-altitude angle. Find Colorado hot-air balloon companies >>
Horseback Riding
Few activities embody the West like an old-fashioned horseback ride through Colorado. Somehow, aspen viewing, wildlife watching, sightseeing and simply enjoying the outdoors are a different experience when sitting astride a saddle. Consider a trail for the day or book a vacation at a Colorado dude ranch. Find Colorado horseback riding options >>
Off-Highway Vehicles (OHV)
Travel deep into aspen-covered backcountry while riding a mountain bike, four-wheeler, ATV or 4x4 vehicle. Forest trails, often explored by just a handful of visitors, abound in Colorado. Find yourself surrounded by speckled aspen bark, as a golden canopy of color rises above you. Find Colorado ATV rentals and 7 Popular ATV & Jeep Trails >>
Scenic Byways
Colorado's 26 scenic and historic byways pass through some of the state's most scenic areas and are a great way to find fall color. Here are five of the best Colorado fall drives >>
Hiking
Get up close and personal with fall colors on a leaf-peeping hike. Explore nine of our favorite dog-friendly hikes. Or, leave the pups at home and tackle the first four miles of the Colorado Trail. Segment #1 starts near Denver and is smooth, only gains about 40 feet per mile in elevation and offers an accessible fishing pier along with stunningly colorful vistas.
Want more? 
Explore Colorado's fabulous foliage on a campervan road trip >>