5 Family-Friendly Hikes in Boulder
It's okay if you still put the word "hiking" in air quotes when you talk about heading outdoors with your kids. Any attempts at fresh-air adventures are good for the whole family — and trails are super accessible in Boulder.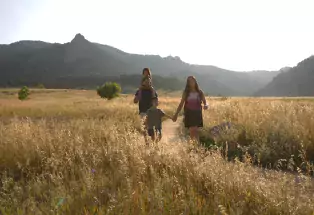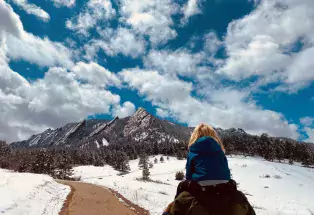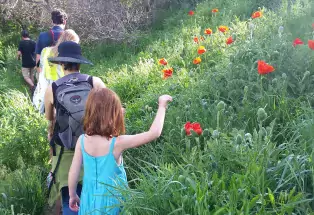 These five easy Boulder hikes are great for kids and grown-ups alike, with interesting features that will capture their attention and keep you all looking forward to what's around the next bend.
South Boulder Creek Trail at Bobolink Trailhead
Difficulty: Easy
Distance: 2 miles round-trip
Dogs allowed: No
Trail Map 
Where to Park (No Fee) 
For a mellow hike with interpretive signs and excellent bird-spotting opportunities, follow this trail south from the Bobolink Trailhead. Youngsters will immediately be placated by the beach-like banks of Boulder Creek where there are opportunities to toss pebbles or dip your toes in. Continue on under towering, shady cottonwood trees. Because this trail is on the eastern edge of town, you'll get a fresh perspective on the Flatirons and the snowcapped Rocky Mountains beyond.
Bald Mountain
Difficulty: Easy
Distance: 1 mile round-trip
Dogs allowed: Yes, but see regulations
Trail Map 
Where to Park (No Fee)
After a 15-minute, winding drive up Sunshine Canyon, you'll come across this short but memorable hike. Climb for just a little while before reaching the top of Bald Mountain — so named because of the clearing at the top. This halcyon meadow provides unfettered views of Boulder Valley in one direction and some of Colorado's tallest peaks in the other. Bring a picnic!
Boy Scout Trail
Difficulty: Easy/Moderate
Distance: 0.8 mile round-trip
Dogs allowed: No
Trail Map 
Where to Park (Fee)
This is a delightful, family-friendly hike with forest-framed views and boulder-strewn terrain that ends in a breathtaking lookout at May's Point. As the trail nears its scenic destination, it becomes a fantastic kingdom of rock castles and trees for kids, who will love exploring, scrambling, climbing and hiding. The entrance for the trail is located directly across the from the Flagstaff Nature Center at the Flagstaff Summit, which is great for children and open May-September, Friday-Sunday, 10:30am–4pm.
NCAR Trail
Difficulty: Easy
Distance: 1.2 miles round-trip
Dogs allowed: Yes, but see regulations
Trail Map 
Where to Park (No Fee) 
The beginning of this trail, the part that traverses a small mesa dotted with pines and boulders, also goes by the name Walter Orr Roberts Trail. This section has interpretive signage provided from the neighboring National Center for Atmospheric Research (NCAR). From the mesa-top, the trail drops to a broad saddle and then makes another climb to a water tank (kids will enjoy putting one ear to the tank to listen for drips and drops), before ascending into a valley.  
McClintock/Enchanted Mesa Trails
Difficulty: Easy
Distance: 0.8 mile
Dogs allowed: No
Trail Map 
Where to Park (Fee) – Parking fills up fast here. See below for Park-to-Park shuttle information.
Starting in the Chautauqua area will wow the fam with gorgeous views of the Flatirons. The on-site General Store (open seasonally) carries delicious ice cream and hot chocolate if bribery is required to get your crew moving. The McClintock Trail starts at the picnic area just south of the Chautauqua Auditorium. Along the beginning of the trail, bright poppies bloom in summertime. The route descends into a lush stream-side forest, then climbs gently and crosses the fire road (Enchanted Mesa trail) at a stone bridge. The trail continues to climb along the edge of a shrub-filled gulley until it intersects with the Mesa Trail.
Headed to the Chautauqua area on a summer weekend to hike among the Flatirons? Ride the free weekend shuttle to get there stress-free and avoid parking fees. Here's all the information on the Park-to-Park hiker shuttle, which runs weekends Memorial Day to Labor Day.
Want more? 
Check out the Boulder Hike Planner
Explore things to do with kids in Boulder