Find Your Perfect Fall Adventure in Colorado
The aspen leaves are changing. The mountain peaks are just starting to feature a white dusting. The scent of roasting green chilies is in the air. It's hard not to "fall" in love with autumn in Colorado.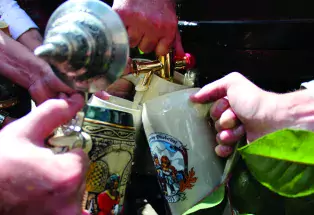 Wondering where to begin your adventure? Pick your own persona and get ready to explore! 
Thrills & Chills Seekers
Without question, one of our eeriest destinations is the Stanley Hotel, the inspiration for Stephen King's "The Shining." Local lore says ghosts roam the halls of this Estes Park icon on the fringes of Rocky Mountain National Park, and it's certainly not the state's only spot with a haunting past. 
We can't promise you won't see spirits in Carson ghost town, so consider this a warning. The remote outpost near Lake City is a challenging trek; 4x4 vehicles, bikes, OHVs and motorcycles can reach it, or you can hike. Beyond the abandoned village is yet another ghost town, Old Carson, the view from which is spectacular.
In Central City, witness reenactments of gruesome tales during walking tours of historical sites at October's Creepy Crawl. Or, join Gilpin Historical Society's SRIP (Spirit Realm Investigation Project) for some supernatural sleuthing at their Paranormal Night with the Spirits. You'll team up with ghost experts and search for messages from the dearly departed.
Hotel Colorado is billed as one of the state's most haunted lodgings thanks to the strange, unexplained paranormal activity within the walls of this 1893 Glenwood Springs accommodation. A woman's screams have been reported by guests and staff alike, while flickering lights have caused alarm (and yes, Hotel Colorado pays its utility bills on time). Oh, and to add to the eeriness of the hotel there's a crematorium in the basement that was used for World War II military personnel. 
Leaf Peepers
Come autumn, visitors and locals alike flock to foliage-viewing hot spots to ooh and ahh over endless swaths of yellows, oranges, reds and greens. 
The historic Cumbres & Toltec Scenic Railroad in small-town Antonito offers dramatic prospects of Wolf Creek's rushing waters and the Lobato Sheep Ranch. Keep an eye out for deer, elk and bear as you chugga-chug up the mountain. While the scenery is breathtaking year-round, it's especially remarkable during this vibrant season. 
Every September and October, Kebler Pass (elevation 10,007 feet) explodes in color. Aspens are plentiful along the drive, hike, bike or horseback ride between Gunnison and Crested Butte. Take in gold-tinged peaks and marvel at remnants of long-abandoned mining and lumber camps, pristine Lake Irwin and majestic Taylor Canyon. Soak up more fall hues at nearby landmarks like Black Canyon of the Gunnison National Park and Blue Mesa (Colorado's largest reservoir).
For 360-degree views of fascinating foliage, hop aboard the Telluride/Mountain Village gondola. You'll glide high above the forest floor on an 8-mile journey to Mountain Village for photo ops you just can't get from the ground. Best of all, the ride is free! 
Experience fall's enchantment in Leadville, Colorado. Ride the historic Leadville Train through fiery forests, discover Camp Hale's golden history and find serenity by Twin Lakes' mirrored shores. Ascend Independence Pass for sweeping views, revel in ATV tours or hike 14ers amid nature's vivid autumn palette.
Wildlife Watchers
Colorado is truly an animal lover's paradise. With 42 state parks, four national parks, eight national wildlife refuges and monuments, and 11 national forests, you'll find no shortage of fabulous fauna.  
A rafting hot spot, Bighorn Sheep Canyon lives up to its name with ample opportunities to see Colorado's state mammal. From the canyon, upstream from the Royal Gorge near Cañon City, you'll see trees flamboyantly brandishing fall colors along the Arkansas River. Various outfitters can set you up with whitewater excursions or riverfront camping trips. Look for red-tailed hawks, mule deer and sheep throughout your journey.
Arapaho National Wildlife Refuge near Walden was founded specifically as a nesting and rearing habitat for migratory birds. Many avian species call the refuge home, and it's a haven for countless other wildlife as well. It's located in a "park" — the name given to large mountain valleys — and is rimmed by remote peaks that beckon serious hikers.
On the state's eastern plains, dramatic, windswept vistas welcome visitors to Pawnee National Grassland, an expanse of nearly 200,000 acres where you'll spot many bird species unseen elsewhere. The conservation area is home to Colorado's state bird (the lark bunting) and unique high-plains bird species. Other Colorado critters such as pronghorns and swift foxes are also found throughout. 
Oktoberfester
Wear your best lederhosen or dirndl dress to Breckenridge Oktoberfest, a three-day ode to Bavarian culture known as the largest street party in the Rockies. Tip: Pre-order a commemorative stein. and get two free drink tickets. Just be mindful that Breck sits at 9,600 feet and pace yourself accordingly.
Get your Oktoberfest fix year-round at Ein Prosit, a true German beer hall in the mountain town of Frisco. Frisco is a haven for outdoor lovers — mountain bikers and skiers especially — and after a hard day of play, a cold beer is the perfect cure for what "ales" sore muscles.
BierWerks prides itself on the authenticity of what it serves: Colorado sausages, Wisconsin cheeses and German-style beers. The Woodland Park eatery is located just 20 miles from Colorado Springs, making it a convenient side trip for I-25 travelers. You'll find house-made craft beers at BierWerks — Helles, Altbier, Dunkel and Latzenbier — and a local community that loves any excuse to have a good time.
Want to see Oktoberfest beers being made? Stop into Timnath Beerwerks, Ska Brewing (Durango), Grimm Brothers (Loveland) or City Star Brewing (Berthoud).
Farmers' Market Fanatics
You love fresh fruits, veggies and local crafts along with meeting the people who grew or made them. You want to connect with the local community and be a participant, not a spectator. Tick all these boxes at a few of our favorite farmers' markets.  
Every Saturday from July through October, the San Luis Valley's largest city, Alamosa, comes alive with activity. You'll find the Alamosa Farmers' Market downtown, filled with rainbows of root veggies, squash and artisan wares ranging from handmade tortillas to beaded jewelry.
Greeley Farmers' Market's slogan is "Real Food. Real Farmers. Real Fun!" That just about sums up this Saturday-morning event, going strong for more than 20 years. Celebrate the bounty of the area — from peaches and apples to chili peppers and corn — and get to know the proud people who make up this agricultural community.
Pick up fresh or prepared goods for your travels throughout the Western Slope at the Montrose Farmers' Market. The seasonal weekend market is where farmers and ranchers reconnect, and where locals and travelers become fast friends. Find a variety of regional products from fruits and veggies (like famous Western Slope peaches) to jams and artisan baked goods — perfect for road-trip snacks. 
Want to pick your own goodies straight from the field? Check out the farm and U-pick activities around the state.
Want More?
Find more ways to get the heebie jeebies
Grab your binocs and take a good look at our cutest creatures
Learn more about Colorado's best fall brew fests