Frisco
Frisco is a quintessential Colorado mountain town perched between mountains and a lake at 9,097 feet in elevation and just 90 minutes from Denver International Airport.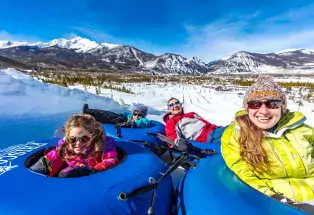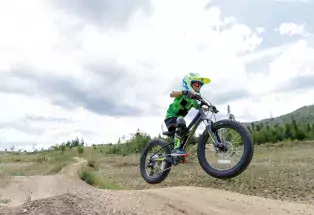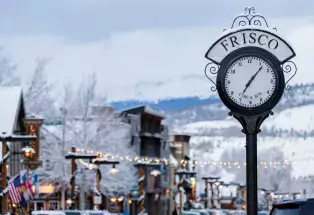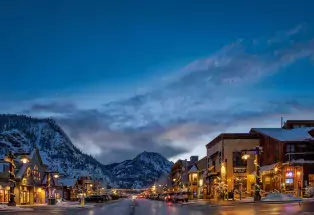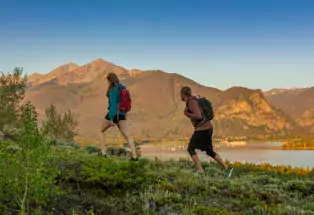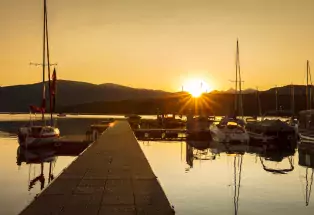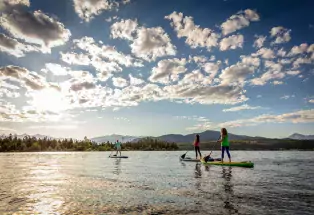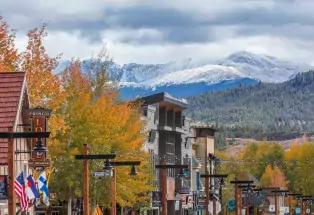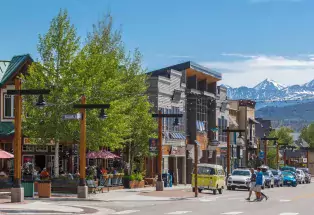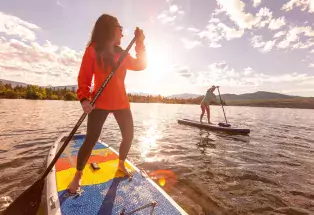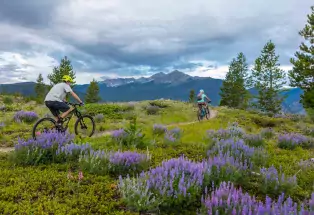 The town's establishment was inspired by gold and silver mining in the 1870s, and today's residents and visitors still find inspiration in the area's resources and the hundreds of acres of public land that surround Frisco. 
What to Do
Frisco is uniquely situated within 30 minutes of six world-class ski resorts, including Copper Mountain (seven minutes), Breckenridge Ski Resort (15 minutes) and Vail Mountain (30 minutes).  Throw in an appealing Main Street replete with locally owned shops and restaurants, and you have a unique "resortless resort town," which has the good fortune of sitting in the midst of incredible recreational opportunities while still retaining its small-town charm. In other words, it's the ideal spot to set up base camp, whether for a winter vacation on the snow or a summer adventure on the trails and water.
During the winter, just minutes from Main Street, the Frisco Adventure Park offers a lift-assisted tubing hill, beginner ski/ride hill, Nordic center with cross-country skiing and snowshoe trails and horse-drawn sleigh rides.  After the snow melts at the Adventure Park, chuck wagon rides and a free skate park, bike park and disc-golf course emerge for the summer.
The Frisco Bay Marina, at the eastern end of Frisco's Main Street, offers all of the components for a quintessential "summer lake life," from pontoon boat and stand-up paddleboard rentals to fishing and sailing. The opportunities for summer activities like hiking and mountain biking are boundless, as Frisco is surrounded by public lands with easy access to trailheads from all corners of town. Frisco is also the area's hub for 55 miles of paved recreation paths, which are ideal for road biking, running, walking and even longboarding.  
Frisco Events
Frisco hosts more than 75 events every year, including the Colorado BBQ Challenge and Frisco's Fabulous 4th of July celebration, complete with a parade, live music and a fishing derby. Concerts in the Park, held on Thursday evenings in the summer at the Frisco Historic Park, inspire dancing and picnics.
And of course, Frisco embraces its passion for outdoor recreation by planning events like the Frisco Triathlon (complete with a stand-up paddleboard leg), the Mountain Goat Kids' Trail Running Series, the Turkey Day 5k and the Frisco Freeze winter-bike race.
Frisco throws out the welcome mat in early December, when more than 65 businesses serve up free samples of their own special brew of hot spiced cider during Wassail Days to usher in winter and the holidays. And Frisco doesn't forget about its canine citizens and visitors, no matter the time of year. Dogs are welcome at almost every Frisco event, and a few events are even planned around the town's beloved furry friends, like the Frisco Mardi Gras 4Paws dog parade and the Canine 4k in August.
Where to Stay
Frisco boasts a range of wallet-friendly lodging from traditional hotel rooms to houses that can host the entire family. Also, camping is available in the summer just a stone's throw from Frisco Main Street, either in developed sites near Dillon Reservoir or in dispersed camping areas near some of Frisco's most popular trailheads. Wherever you rest your tired head after a day of adventure, you'll find a walkable town with loads of charm and big-town amenities in a small-town package.    
Photo credits: "Frisco in full bloom," Mike Murphy; "Wintertime twilight in Frisco," "Frisco's wintry downtown" and "Fun at Frisco Bike Park," by Joe Kusumoto; rest of photos, Todd Powell.
Other Cities in the Region