Heeney
The original town of Heeney was an offshoot of the dam construction that took place here in the 1930s. Since then, the sleepy community by the Green Mountain Reservoir has catered to boaters, hunters, hikers, fishers, campers and 4x4 enthusiasts.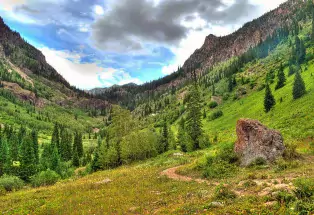 A small marina rents boats, and the local general store is the place to stock up on food and fishing supplies for extended trips. Anglers can reel in fish at the reservoir, along the Blue River or at the remote, glacially formed Cataract Lake. Visitors can even hang-glide from the Blue Ridge above the Green Mountain Reservoir or hike the trails in the adjacent Eagle's Nest Wilderness. Ice fishing is a wintertime pastime. Although the reservoir is a hidden gem for boaters, during drought years it is used exclusively for water storage.
In this area, lodging takes the form of cozy rental cabins, including Muddy Creek Cabins in nearby Kremmling.
Other Cities in the Region