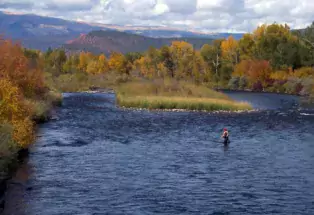 Touted as one of "The Top 10 Adventure Towns in the U.S." by National Geographic Adventure Magazine, there is plenty to do including biking, kayaking and world-class fly-fishing. In winter, excellent cross-country skiing can be found at Spring Gulch.
At an altitude of 6,181 feet, the Carbondale area is characterized by an average of 295 days of sunshine, low humidity, cold but mild winters and comfortable summers.
Resting in the magnificent shadow of 12,953-foot Mount Sopris, where rocky vistas meet crystal waters, Carbondale is a great base camp for recreation enthusiasts. The area offers a variety of lodging options including rustic lodges and cabins, rugged yet comfortable campgrounds, a distillery inn, quaint bed & breakfasts, as well as several more traditional hotels with modern-day amenities. Head downtown to experience the culinary delights the town has to offer. The city's art galleries also offer tasteful gifts, including some of the finest ceramics in the region.
For a detailed history of the area, take the self-guided historical Carbondale walking tour. Stop at Thompson House Museum, also operated by the Mt. Sopris Historical Society, to see original furnishings and objects from the home of Hattie Thompson Holland and Oscar Holland, two of Carbondale's earliest pioneers. Free tours of the historic home, one of the only musuems in the country to house furnishings owned by its original pioneer family, are offered during the summer.
This funky town is also a Certified Colorado Creative District, and the Powers Art Center's uber-modern architecture and contemporary exhibits makes it an excellent place to experience why. Make stops for Carbondale's talented artists and makers, too, for everything from performance art to jewelry making.
Carbondale also celebrates arts, music, and culture at the end of July with the annual Carbondale Mountain Fair, and October marks Carbondale's heritage with the annual Potato Day Parade and Festival.
Read 2 Days in the Roaring Fork Valley for an itinerary of things to do in the area.
Other Cities in the Region