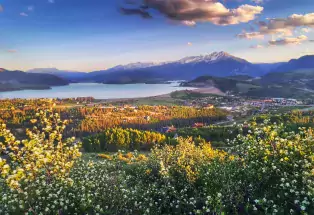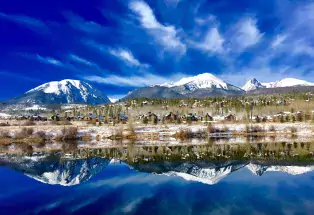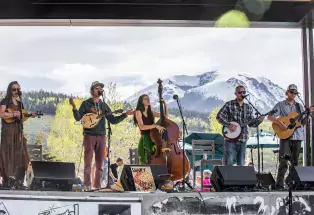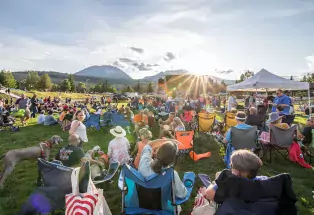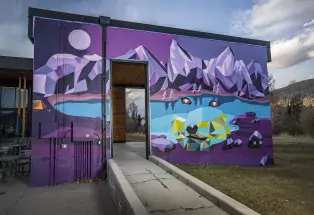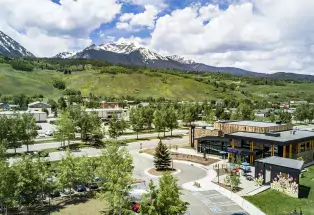 From its modest beginnings as a camp for workers building the Dillon Dam to its modern role as the year-round heart of Summit County, this quintessential mountain town has evolved into a bustling gateway to ski country. Silverthorne delivers endless outdoor adventure, a thriving arts-and-culture scene and the most welcoming residents in the Rockies. Located conveniently off I-70, Silverthorne also provides less expensive — though just as breathtaking — accommodations.
Things to Do in Silverthorne
Whether you're seeking a family-friendly weekend or an adventure-filled excursion, Silverthorne is the perfect basecamp for all your high-country exploring.
Once the snow melts, Silverthorne's Blue River becomes a big draw for anglers. The Blue River sports four different types of fat and feisty trout, making it perfect for fly-fishing.
If you love to golf, the Raven Golf Course at Three Peaks caters to all skill levels and features a lovely layout amid pine and aspen forests, sparkling lakes and snow-marbled 13,000-foot peaks. 
Silverthorne additionally boasts scenic trails for hiking and biking — including the Blue River Trail, which connects the town with the Summit County Recreational Pathway System that offers routes to Dillon, Keystone and Frisco.
Outlets at Silverthorne
If fishing, skiing, golfing or hiking don't suit your fancy, then perhaps Silverthorne's prime shopping will excite you. One of the town's biggest draws is the Outlets at Silverthorne, featuring a multiplex of more than 70 name-brand stores and deep discounts. While you're there, stop into the Colorado Welcome Center for trip ideas and planning resources. 
Restaurants in Silverthorne
For a true taste of Silverthorne, don't miss its burgeoning restaurant scene that includes award-winning craft brews, delectable food inspired by cultures from around the world and its excellent bistro fare. Round out your Silverthorne adventure with a walking tour of the town's public-art displays or a theater performance by the Theatre SilCo at the state-of-the-art Silverthorne Performing Arts Center. 
Explore Neighboring Dillon
Top off your trip to Silverthorne by exploring neighboring Dillon. Take in the pristine Dillon Reservoir and rent water toys galore such as pontoon boats, paddleboards and sailboats in the summer; or explore the lake with a guided ice-fishing adventure in the winter. If you're looking to further your arts-and-cultural experience, check out the Rocky Mountain Tour de Art from Silverthorne to Steamboat.
Whether you're hiking or biking along the Blue River, seeing a show at the Silverthorne Performing Arts Center or attending a signature First Friday event, you're experiencing Silverthorne at its best.   
Want more?
Plan a weekend in Summit County
Find sunny days and cool nights with an autumn visit to Silverthorne
Other Cities in the Region