Minturn
Sandwiched between Vail and Beaver Creek ski resorts on the confluence of the Eagle River and Gore Creek, Minturn is a great alternative to the typical resort vacation.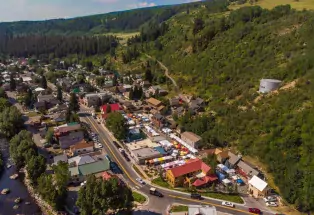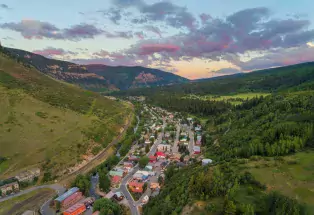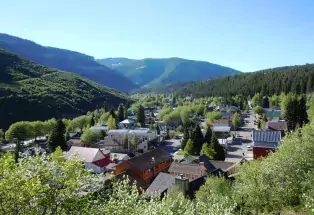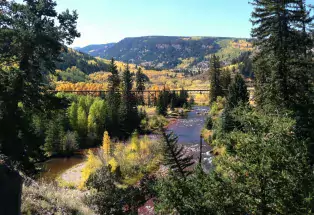 Minturn is just minutes from Vail and Beaver Creek, but don't expect to find the same mega-resorts or super fancy restaurants. The town is 5 miles west of Vail along U.S. 24. amid the Holy Cross Wilderness Area and White River National Forest. Colorado 24, running through town, is also a part of the Top of the Rockies scenic and historic byway, offering stunning views along the way from Minturn to Red Cliff.
Minturn features a main street of unique, local shops and restaurants that make day and weekend trips a pleasure. The town has a population of just over 1,000 people and is virtually surrounded by havens for fly-fishing, hiking, mountain biking, rafting and kayaking. In summer, helmet up at the Minturn Bike Park, where you'll find a variety of skills and trails for riders of all abilities with a backdrop of lush mountains. The park is free for everyone, and terrain ranges from gentle slopes for beginners to more difficult jumps for black-diamond-level riders. Minturn's Little Beach Park additionally features a climbing wall, along with play structures, picnic tables and an outdoor amphitheater.
The Minturn Saloon, a few shops, and restaurants make up the historic downtown, with reasonable prices and a relaxed atmosphere. The outdoor summer market (every Saturday in the summer) is a true artisan market, not only featuring great produce, but also gourmet foods, gifts, clothing, jewelry, handmade crafts, items for the home, fine art and more. The market has live music each week, a food court and kid-friendly fun. The town also hosts a free summer concert series on Thursday nights in July and August. Find other events on the Town of Minturn's events calendar.
The tiny Minturn Country Club (not really a country club), located in the downtown area, is an ideal restaurant for the picky eater: Prepare your own steak, fish or chicken kebab and toss it on the grill. The Minturn Inn, a refurbished 1915 log home now filled with rustic Western pieces, is a pretty place to rest your head, and The Bunkhouse is also a great spot for bargain lodging. Additional lodging options can be found here. 
Read A Day of Summer Luxury in Vail & Beaver Creek and Three Days of Fun Along Top of the Rockies for itineraries of things to do in the area.
Other Cities in the Region