Empire
Tiny but historic Empire lies at the foot of Berthoud Pass, between I-70 and Winter Park. With a coffeehouse, Redman Hall (featuring the works of local artists), an antique and stained glass store, record shop and a couple of diners blending some great homemade malts, Empire is a favorite stop for snowriders on the way to or home from Berthoud Pass and Winter Park Ski Resort.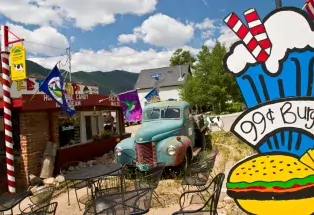 Clear Creek County Tourism Bureau
1531 Colorado Boulevard , Idaho Springs, CO 80452
Empire offers terrain for novice and experienced outdoor enthusiasts alike. Gray's and Torrey's Peaks are two of Colorado's friendlier 14,000-foot mountains, and the slightly more challenging Mt. Bierdstadt is also close. For experienced skiers, plenty of backcountry steep awaits at Berthoud Pass, just to the north, while the more conventional Loveland Ski Area is just 20 minutes away. The town's Jones Pass Guides takes visitors to epic backcountry terrain via snowcat.
Just west of town, you'll find the Education Research Trail, an ADA-accessible interpretive trail with enghancements for those with visual impariments that details the history of wagon-road travel over Berthoud Pass during the region's Gold Rush.
For itineraries of things to do in the area, read 2 Days in Grand County and Colorado Mountain-Town Getaway: Idaho Springs, Georgetown Black Hawk & Central City.
Other Cities in the Region