Mccoy
Tucked away on the border of Eagle County between Vail and Steamboat Springs, McCoy is a favorite area for hunting and fishing.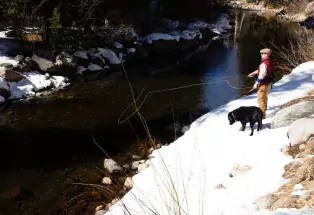 Fly-fishing is especially popular along stretches of the Colorado River, which runs near McCoy. Whitewater rafting is also popular in neighboring community of State Bridge. More outdoor adventures, such as hiking and camping, abound in the adjacent White River and Routt national forests. McCoy is also only about 45 minutes from world-class ski and snowboard resorts and shopping facilities at Beaver Creek and Vail.
Remote and rustic, McCoy is primarily a ranching community. A few area ranch owners have begun opening their homes and surrounding lands to guests. At these overnight dude ranches, visitors can spend a week riding horses, eating home-cooked meals and living the life of the Wild West.
The town of McCoy offers no visitor services, but a grocery store is available in nearby Yampa, and larger towns along the I-70 corridor offer plenty of lodging options.
Other Cities in the Region