Aspen
Nestled in the heart of the White River National Forest and surrounded by the peaks of the Elk Mountains, Aspen is well known as a ski destination, but the town's history and offerings go much deeper.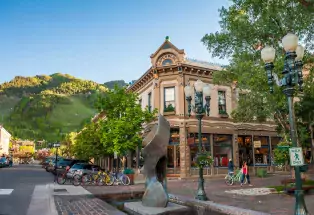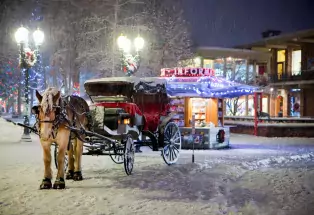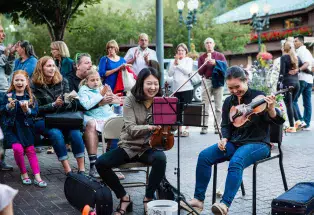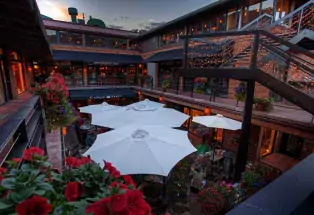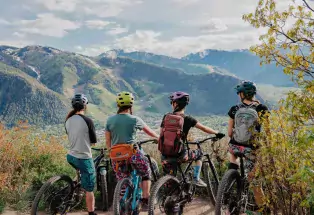 Originally inhabited by the Ute Indians, Aspen became a silver-mining town during the mining boom of the late 1800s. Following the devaluation of silver, Aspen experienced a cultural renaissance in the 1940s with the arrival of Walter and Elizabeth Paepcke. The Paepckes brought a vision for the community that focused on the mind, body and spirit, called "The Aspen Idea." This idea drives the character of Aspen. Forget what you think you know about our mountain town; come and experience "The Aspen Idea" for yourself.
Aspen lives up to its winter reputation. Four ski mountains make up the terrain for the world-renowned Aspen Snowmass resort. Aspen Mountain, locally referred to as Ajax, rises up directly from downtown, bringing a whole new meaning to ski-in/ski-out. Buttermilk Mountain, home of the Aspen X Games, is a kids' and beginners' paradise. Aspen Highlands boasts the legendary Highland Bowl, and Snowmass offers the largest acreage and diversity by having something for everyone. Aspen's beautiful scenery and open space also lends itself well to other types of winter recreation, such as cross-country skiing and snowshoeing, fly-fishing and even hot-air ballooning. After a hard day of play enjoy Aspen's legendary après ski scene, or head out for dinner at one of our world-class restaurants. Top off the night by enjoying a show at Belly Up, Aspen's 450-person live music venue featuring renowned artists. Aspen's big-city cultural institutions, well known for their summer programming, have plenty of events throughout the winter months as well, leaving you inspired.
"I came to Aspen for the winter, but stayed for the summer," is how many locals respond after telling about the years they have lived here. Summer offers even more opportunities for outdoor recreation than winter. No matter what your outdoor ambitions are you will find something to excite you. The rafting, hiking, biking, rock-climbing, fishing, golf, horseback riding, hot-air ballooning and paragliding combined with the fresh air and gorgeous natural surroundings create the perfect place to get outside and explore, all within steps of downtown. Summertime also boasts an events calendar that can rival any major city. The quality of programming from Aspen's diverse arts and cultural institutions is a big draw for visitors throughout the summer. The Aspen Music Festival & School puts on an impressive 400-plus event program from June through August, The Aspen Institute hosts signature programming such as the Ideas Festival & Security Forum on the idyllic Herbert Bayer-inspired campus, and Theatre Aspen's summer repertory features Broadway stars in an intimate theater in the park. Once you have been thoroughly inspired, sit back and relax on the patio of one of our wonderful restaurants, or stroll through downtown enjoying our quintessential small-town community.
Aspen lodging options range from campsites with views of the majestic Maroon Bells, the most-photographed peaks in North America, to five-star properties. Come visit our authentic mountain town, complete with breathtaking scenery and activities for everyone. We look forward to your visit.
Check out how-to videos on Aspen hiking etiquette, wildlife viewing, carrying your skis and visiting the Maroon Bells. 
Other Cities in the Region