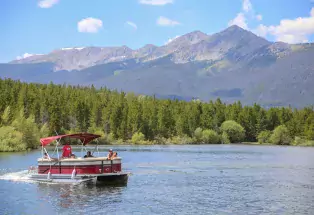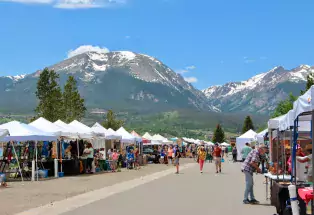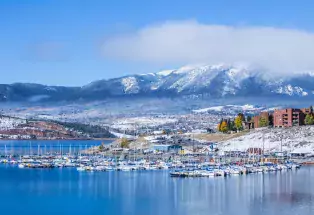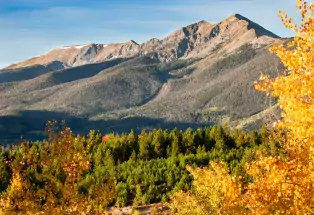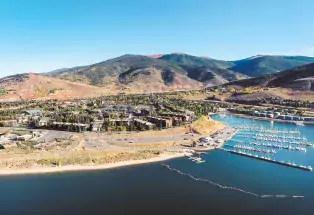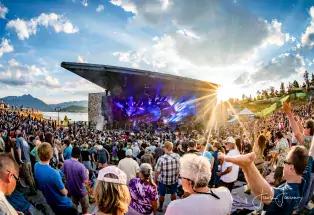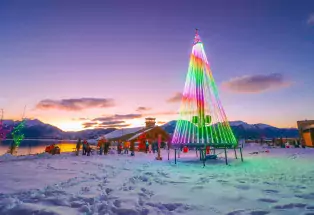 And with stunning alpine scenery situated amongst world-renowned ski resorts, this ruggedly beautiful region delivers endless opportunities for fun.
Whether you're seeking a family-friendly weekend or an adventure-filled excursion, the central region of Summit County (encompassing Dillon, Frisco and Silverthorne) serves as the perfect basecamp for your high-country vacation. You'll be dazzled by statuesque mountains topping out above 14,000 feet, the pristine Dillon Reservoir (also known as Lake Dillon), bold rivers with renowned rapids and fishing holes, along with hundreds of miles of wilderness. 
Adventure on Lake Dillon 
At the Dillon Marina — the highest deep-water marina in North America — you can book a Dillon Reservoir boat tour or rent water toys like pontoon boats, paddleboards and sailboats. With 26 miles of shoreline surrounded by a breathtaking mountainous backdrop, the reservoir is perfect for boating, sailing, walking, biking and picnicking. Check out Dillon's and Frisco's shoreline for a decidedly beachy feel. Want to kick back and relax? Take the bike-friendly Summit Shuttle boat that runs between the Dillon and Frisco marinas. You'll love spending quality time on the water and more than appreciate the one-way rolling bike ride back to your home away from home.
Things to Do in Dillon
Art comes to life at the beloved Silverthorne Performing Arts Center and its signature First Friday events. Or catch a lakeside concert at the newly renovated Dillon Amphitheater, which boasts rock, jazz, folk and orchestral offerings throughout the summer. And Frisco's weekly Concerts in the Park offer an innovative opportunity to support live music. 
The Dillon Farmers Market features many Colorado products including produce, artisan goods and crafts all served up with amazing views along the shores of the reservoir. The Farmers Market runs every Friday from June through September, making it the perfect place to grab something to go for a picnic. 
If you love playing the greens, Silverthorne's Raven Golf Course at Three Peaks caters to all skill levels and features a rolling layout amid pine and aspen forests, sparkling lakes and snow-marbled 13,000-foot peaks. There are also several scenic trails in the area for hiking and biking — including the Blue River Trail, which connects the northern and southern portions of Silverthorne and unites with the Summit County Recreational Pathway System (offering routes to Dillon, Keystone and Frisco).
If you're looking for a break in the outdoor action, Silverthorne's shopping might excite you. Head to the Outlets at Silverthorne, featuring a multiplex of more than 70 name-brand stores and deep discounts. For a boutique feel, visit the Frisco Pedestrian Promenade where three blocks of Main Street has been transformed into an open-air shopping and dining experience for pedestrians and bikes only. This is a great chance to physically distance and still linger on Frisco's historic main drag. Stop into the Colorado Welcome Center in both towns for planning resources. 
In winter, skiing reigns supreme — and Dillon, Silverthorne and Frisco are affordable home bases for family ski trips, with downhill options just minutes away at Keystone and Breckenridge ski resorts. Arapahoe Basin, Loveland, Copper and Vail ski areas are also only short drives away. 
Want More?
Learn about Dillon's marina, recreation trails, camping and disc golf, or click here for a map of Lake Dillon.
Find hotels in Dillon, Colorado
Other Cities in the Region