Colorado Creative Districts
Thirty Colorado communities brimming with galleries, artists in residence and special arts events have recently been designated official state Creative Districts.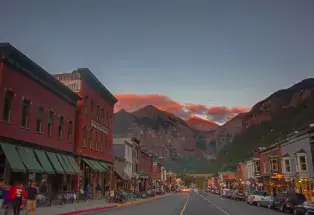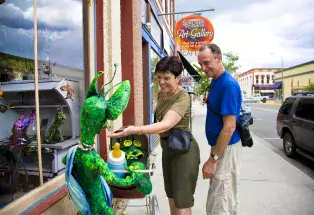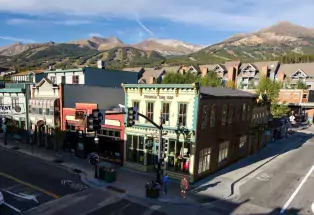 Find out why Denver's Santa Fe, Golden Triangle, Westwood and River North neighborhoods, Corazón de Trinidad, North Fork Valley, Pueblo, Ridgway, Salida, Telluride, Colorado Springs, Greeley, Longmont, Lakewood, Crested Butte, Fort Collins, Breckenridge, Mancos, Manitou Springs, Grand Lake, Steamboat Springs and Grand Junction are must-stops on any tour of the arts in Colorado.
Denver's Art District on Santa Fe
With more than 70 galleries, several art studios, Spark Theater Company and other creative organizations, the Art District on Santa Fe becomes more of an arts destination in Denver each year. The district's First Friday Art Walk has burgeoned into an all-out street party on Santa Fe Drive, bringing a unique mix of Denverites out to see what's cooking each month. The Third Friday Collector's Preview gives gallery-goers a chance to meet artists and gallery owners in a more intimate setting.
Corazón de Trinidad
Affordable living and beautiful landscapes in Trinidad have recently resulted in an influx of artists in residence and full galleries in Corazón de Trinidad (the heart of Trinidad), and the Main Street LIVE's professional company fills the year with classics and original works. On a stroll through the quaint, brick-lined streets of Old Trinidad, you can also ogle one of the largest collections of Victorian houses west of the Mississippi.
North Fork Valley Creative Coalition
The southwest Colorado towns of Paonia, Hotchkiss and Crawford have been recognized for their peppering of studios, home workshops, fine artists, writers, musicians and filmmakers, as well as the beautiful land that inspires them. Organic farms, orchards, vineyards and mesas have conspired to make the North Fork Valley a pocket of natural and artist-made riches perfect for a few days' exploration just an hour's drive from Black Canyon of the Gunnison National Park.
Pueblo Creative Corridor
Pueblo's Creative Corridor is home to a First Friday Artwalk that's been going strong for more than 20 years. The area's historic buildings house a collection of boutiques, art galleries, studios and sidewalk cafes anchored by the Sangre de Cristo Arts Center. Museums, live music, galleries, public sculpture, fountains, frequent festivals and events, and more bring this historic district to life.
Ridgway FUSE (formerly Ridgway Creative District)
Previously well known for its role in John Wayne's "True Grit," Ridgway's FUSE is growing more diverse thanks to the more than 10 percent of its 900 residents who call themselves artists. Galleries, studios, a historic theater and arts education center come alongside furniture, jewelry, candle and clothing makers, not to mention Billings Artworks, which makes the GRAMMY Awards each year. Check out the town's twist on artwalks with each month's full-moon studio tours.
Telluride Creative District
Telluride can truly celebrate its uniqueness: It's a town where all shops, restaurants and hotels are independently owned and Colorado minded. Renowned for blockbuster events like the Telluride Film Festival, Telluride Bluegrass Festival and others, the Telluride Arts District's box-canyon-cradled, walkable downtown hosts musicians, painters, photographers, bookbinders, chefs and many others who contribute to the air of creativity in Telluride.
Salida Creative District
Arkansas-Riverside Salida was named one of Outside Magazine's Top 10 Best Small Towns in 2009, and since then it's become even better! Its friendly downtown is truly a Creative District, packed with studios and galleries, locally focused eateries and shops, breweries, distilleries and more — all of which make beautiful and creative use of the town's Victorian-era buildings. Long appreciated by rafters, mountain-bikers and fourteener climbers, Salida's reaching all kinds of new travelers these days. 
Greeley Creative District
Home to the University of Northern Colorado, Greeley is a lively college town with an artistic soul. The city's Creative District, which encompasses the downtown area and surrounding neighborhoods, sponsors year-round events and activities to inspire locals, including flash mobs, First Friday Night of Art and Concert Under the Stars performances. 
Downtown Colorado Springs Creative District
With more than 50 pieces of permanent public art, a roster of esteemed cultural institutions and a jam-packed schedule of artsy events and festivals, it's no surprise that downtown Colorado Springs earns marks for creativity. The city's artist-led First Friday Downtown Tour gives visitors the chance to visit a selection of galleries under the wing of an expert in the district located at the city's core. Meanwhile, organizations like Colorado Springs Fine Arts Center and Pikes Peak Center come to life daily with shows and exhibits by local and national artists.
River North Art District
Dubbed RiNo (pronounced "rhino") by locals, Denver's River North neighborhood is bordered by I-70 to the north, I-25 to the west, Park Avenue West to the south and Arapahoe Street to the east. While RiNo maintains its industrial origins, a growing crew of visionary businesses, including architects, art galleries, furniture makers and photographers, have found a home in the area. Many studios and galleries welcome browsers, particularly on First Fridays, and a collection of hip restaurants and bars supply added entertainment.
Downtown Longmont Creative District
Downtown Longmont, registered on the National Register of Historic Places, is infused with a mix of historic charm and contemporary style. The approachable Creative District is home to two community theaters and more than 15 art galleries — all surrounded by an eclectic mix of shops and restaurants. Stop by the neighborhood on the second Friday of each month for special gallery openings, promotions and activities. 
40 West Arts District in Lakewood
Don't be fooled by Lakewood's suburban nature, the city west of Denver hosts an understated artistic community. Lakewood's Creative District, located in the heart of Lakewood within the West Colfax Corridor, has more than 20 public art installations, multiple performing arts venues and a dozen galleries. While you're exploring the area, be sure to stop into one of the area's quirky eateries, including Casa Bonita, a one-of-a-kind Mexican joint with cliff-diving shows (there's a real waterfall!), and Davies Chuck Wagon Diner, a retro diner that's been serving the area since 1957. 
Breckenridge Arts District
Breckenridge's mountain-view-framed downtown Arts District includes long-standing cultural institutions like Breckenridge Backstage Theatre and National Repertory Orchestra, inspirational spaces like decorative plazas and sculpture gardens; and a wide array of studios, galleries and other creative establishments. A multi-facility arts campus at the heart of the district hosts workshops, exhibits, artists-in-residence and other activities for locals and visitors.
Carbondale Creative District
Situated at the heart of Colorado's central Rockies, Carbondale's Creative District is fueled by its rich Western heritage and energetic-yet-intimate community of artists. Explore the blossoming neighborhood at Third Street Center, which houses several grassroots art galleries and dance and performing arts venues; or visit during the Carbondale Mountain Fair in July, when more than 20,000 people gather to celebrate the town's creative riches. 
Crested Butte Creative District
Crested Butte's Creative District embodies the hamlet's famous mountain splendor and encompasses the Center for the Arts,  artist-owned studios and galleries, three co-op galleries and 10 performance venues, including independent restaurants, bars and coffee shops. Stroll galleries in the Elk Avenue historic district; or check out the town's schedule of events, which includes year-round art walks, a favorite arts festival in August and a film festival in September.
Fort Collins Creative District
Local artisans pay tribute to the outdoor beauty of the Front Range in the Fort Collins Creative District, where more than 20 galleries, museums and various innovative institutions dot the city's historic downtown area. Investigate highlights like the Global Village Museum of Arts, The Center for Fine Art Photography, Trimble Court Artisans and Coco Artist Studio during their First Friday Gallery Walk.
Golden Triangle Creative District
Bordered by Speer Boulevard, Colfax Avenue and Lincoln Street in Denver, the Golden Triangle neighborhood is a thriving creative corridor. Choose from an impressive list of universally adored attractions in the district, including the Denver Art Museum, Clyfford Still Museum, Kirkland Museum of Fine and Decorative Art and History Colorado Center; and examine the community's mix of ultra-hip art galleries, boutiques, coffee shops and bars. 
Mancos Creative District 
The old and new flourish side by side in Mancos, a southwest Colorado town that maintains its Western rural character and possess a vibrant community of more than 150 artists, from sculptors and mural designers to writers and cowboy poets. The budding downtown Mancos Creative District has eight galleries, a historic opera house and countless locally owned businesses. Take classes taught by local makers at Mancos School of the West; or tour major galleries and watch artist demonstrations at the summer Mancos Studio Tour.
Steamboat Creative District
Steamboat's Wild West roots combine well with several long-standing arts institutions. With workshops for locals and visitors, youth art programs like the Perry-Mansfield Performing Arts School & Camp, the crowd-pleasing Art in the Park (July) and All Arts Festival (August), visiting artists program, dedicated Depot Art Center and a serene natural setting to inspire the artist in anyone, Steamboat Springs is a natural fit for creatives — which is probably why so many artists call the area home. Arts must-sees include the Chief Theater, Opera Steamboat, Strings Music Festival and the Steamboat Dance Theatre.
Manitou Springs Creative District
Tucked into the base of Pikes Peak, Manitou Springs has been the quintessential tourist town since the 1870s, when visitors discovered the healing waters the Ute Indians had been drinking for years. The water is still one of the town's main draws, now accented by a walkable downtown peppered with outdoor art, more than a dozen galleries, plus summer concerts series and arts events. Arts lovers must stop at the Commonwheel Artists Co-Op for rotating exhibitions, fine art and crafts gallery, and classes ranging from watercolors and batik to ceramic sculpture and pottery.
Westwood/BuCu Creative District
A Hispanic-centric culture pervades this western Denver neighborhood along Alameda Avenue between Federal and Sheridan boulevards and can be seen in artwork expressed right on the area's light poles, building facades, electrical boxes and trash cans. Colorful murals, especially along Morrison Road, created by local painters display the heritage of generations of Latino artists and new galleries and arts-centric happenings are sprouting up each year. September's Chile Fest showcases the neighborhood at its best, with local food, art, music, dance and a farmers market. 
Grand Lake Creative District
This Rocky Mountain National Park gateway town is a hotbed of outdoor activity, but Grand Lake also harbors a creative community unique to the area. Anchored by the Rocky Mountain Repertory Theater and many galleries and shops on the historic boardwalk, Grand Lake boasts a year-round events calendar with several art fairs, workshops, author's lectures, music events and Second Saturday Art Walks. It's clear this alpine destination inspires its residents.
Downtown Grand Junction Creative District
Downtown Grand Junction's Creative District has a wealth of cultural treasures, including the renovated Avalon Theater and the beloved Art on the Corner outdoor sculpture program. Peruse the charming art galleries, snag a seat at a sidewalk cafes and restaurants, and see how many of the more than 100 outdoor sculptures you can spot. October's Downtown Art Festival brings artists and performances of all kinds to the area and the debut of the annual Art on the Corner temporary exhibit.
Durango Creative District
With the tagline "Where Inspiration Flows," Durango is home to authentic cultural heritage and historic sites in the downtown area. Just like the bright colors in a Durango sunset, there is a vibrant concentration of arts and creative businesses just waiting to be explored in this southwest Colorado town. Take a bite of the farm-to-table culinary scene or purchase a locally crafted souvenir at one of the dozen downtown galleries. Visit for the monthly gallery walk or grab a seat for the latest theater production at the Durango Arts Center. Another highlight is the Durango Museum of Impressionism.
Loveland Creative District
Known for its Valentine's Day traditions (it's right in the name!), Loveland is nestled along the mountains of the Front Range and is home to bronze foundries and nine museums and galleries. Each August, the town celebrates Sculpture in the Park, where 200 local sculptors converge at the Benson Sculpture Garden to sell their wares amid the park's incredible landscape of 150 permanent installations. All year-round, the Loveland Museum/Gallery shows off different art exhibits every eight to 12 weeks. The Loveland Creative District also includes a theater center and an amphitheater, which is packed full every summer for the sunny season concert series. 
Sterling Creative District
The biggest city in the northeastern part of the state, Sterling, is a farming community with a love of art. In the downtown historic district, you'll find historic buildings converted into boutiques and restaurants, including the Sacred Matter Glassblowing Studio, which offers workshops and custom orders. At the Sterling Creatives Artists Co-Op, each day features a different artist hard at work crafting. Spot the sculptures by artist Bradford Rhea around town — they are the living trees carved into intricate designs. The creative district also has signature arts and culture events each year that bring the community together, like July Jamz. 
Aurora Cultural Arts District
Fueled by inspiring landscapes and the robust cultures of its residents, the city of Aurora is overflowing with creativity. Arts offerings run the gamut here: You'll be wowed by everything from hip hop performances from 5th Element Center for Dance to baile folklórico presentations during the Aurora Fox Arts Center's annual Cultural Concerts on Colfax. You'll also find Aurora Symphony Orchestra concerts, Nueva Escuela de Música — a Spanish-English music school — along with Downtown Aurora Visual Arts community-art center and various artists' co-ops. As you make your way throughout the city, keep an eye out for colorful signs of the Art in Public Places program, along with galleries, artisan shops and an array of other creative highlights.
Gunnison Creative District
The charming town of Gunnison is a home on the range that makes for the perfect creative playground filled with natural wonders — think the sheer cliff walls of Black Canyon of the Gunnison National Park, glimmering waters and sweet-sage mesas. This setting serves as the studio for an abundance of artists, writers and makers. Shop the handcrafted wares of area artisans (from skin care at Rooted Apothecary to hearty locally roasted beans from Tributary Coffee), visit galleries on First Friday Art Walks, explore the latest exhibits and events at the Gunnison Arts Center and more.
La Junta Creative District
Meaning "the junction" in Spanish, La Junta is a crossroads of history and culture. Artists' collectives and a theater troupe — the Picketwire Players, named for famed dinosaur tracksite, Picketwire Canyonlands — sprung from the grounds of this gem on Colorado's plains. The small town also boasts a noteworthy festival scene: The Otero Arts Festival for public school students has been running for decades. In addition, the Fine Arts League hosts an annual art show at the Koshare Museum. Tip: As you take in the town, be on the lookout for a flock of neon-pink plastic flamingos that migrates about the yards of residents.
La Veta Creative District
Located on the Highway of Legends scenic and historic byway, La Veta's unique setting and picturesque Spanish Peaks views have long called to creatives of every medium. Keep an eye on their robust events calendar to find opportunities for browsing artists' studios and galleries on summer Fourth Friday Art Walks and checking out local musicians at concerts. Spark your own creative flames at one of the annual events put on by the Spanish Peaks Art Council, such as the Huajatolla Heritage Festival honoring the area's Hispano and Native American roots or Art in the Park. If you're feeling inspired, the La Veta School of the Arts offers a bevy of workshops — from drawing to sand painting to kinetic sculpture — and also offers programming for kids and teens.
Want More?
Tour the Colorado Creative Corridor
Check out Colorado Art Walks