3 Days in Black Canyon of the Gunnison National Park Country
The sheer, marbled walls of the Black Canyon of the Gunnison are among Colorado's most distinctive natural landmarks, but the friendly towns that surround it are what make it an extra-special place to visit.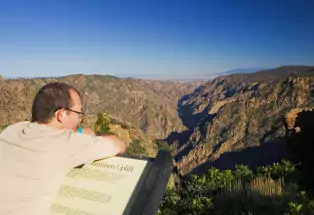 Take three (or more!) days to explore the canyon — as well as the wineries and farms, museums, cafes and Main Streets nearby — to sample the charms of southwest Colorado.
Day 1
Begin your day in the city of Montrose by picking up supplies for a picnic, and head east on Hwy. 50 to Black Canyon of the Gunnison National Park's popular South Rim. You'll soon learn how the canyon got its name when you see its 2-billion-year-old black-rock cliffs and the enormity of its shadowy depths — it's so deep that sunlight only makes it down to the river 2,000 feet below for a few hours each day.
On the rim you can explore several easy-going nature trails, all of which offer canyon overlooks. For those who have several days, the park offers adventurous backcountry experiences and developed campsites, fishing on the Gunnison's Gold Medal waters, rock climbing, wildlife watching and more. Ranger programs are offered year-round — check in at the South Rim Visitor Center to see what's happening during your visit.
To see the canyon from the bottom up, take a drive along East Portal Road. Be prepared to take it slow: the route has a 16 percent grade and is filled with hairpin turns. There are picnic tables and shelters perfect for enjoying the lunch you packed.
Head back to Montrose for a stroll through its historic downtown. Main Street is lined with eclectic shops, antiques stores, galleries and plenty of dinner options. At the visitor center, pick up a Historic Walking Tour brochure that will lead you on an architectural journey through Montrose's history. Learn about accessible options for touring Black Canyon of the Gunnison National Park >>
Day 2
Plan to spend the morning exploring a couple of the museums that offer a glimpse into Montrose's bygone days.
The recently reimagined Ute Indian Museum sits on a homestead that once belonged to Ute Chief Ouray and his wife Chipeta and features exhibits and classes about the area's native people. At the Montrose County Historical Museum, you'll walk through the doors of the former Denver & Rio Grande Railroad Depot and learn about early pioneer, homestead, farming and ranch life. Then check out the Museum of the Mountain West, which displays more than 500,000 Old West artifacts and a recreated Western town.
In the afternoon, head back toward the canyon and hop aboard the Morrow Point Boat Tour for a tranquil glimpse of the canyon and other geologic wonders. Or, rent mountain bikes to explore the trails on the Uncompahgre Plateau, one of the area's best-kept secrets.
For dinner, head north to the city of Delta, which sits at the confluence of the Gunnison and Uncompahgre rivers. The Garden Center Bistro on Hwy. 50 as you enter town serves many local wines and produce. Head into town to see the numerous murals, sculptures and floral displays that pepper its charming Main Street.
Day 3
From Delta, explore the nearby agriculture-centric towns at the base of Colorado's beautiful Grand Mesa. To the east are Crawford, Hotchkiss and Paonia, all of which are stops along the West Elk Loop Scenic and Historic Byway. And to the north sit Cedaredge and Eckert. Each town has a handful of cafes and lodging options.
If you start in Hotchkiss, consider the Coaltrain Coffeehouse for breakfast and some strong fair-trade coffee. Wander through Bridge Street's shops, and take a peek into the Creamery Arts Center, where artists from Colorado's Western Slope display their works. Hotchkiss is also home to several wineries with tasting rooms, including Leroux Creek.
For lunch, head to Crawford's CHICO's Burgers, which gets high praise for its burgers and fries. Crawford is a great starting place for those wanting to visit the Black Canyon's North Rim. The park entrance is only a short drive away and offers several brief hikes that access dramatic views of the narrower end of the canyon.
Or, make your way to the nearby town of Cedaredge for lunch at Lost Mesa Grill or Teri's Place. Fruits thrive in this flat-top mountain microclimate, so while you're in town, visit the Stoney Mesa Winery to pair delicious wines with magnificent views.
Another afternoon option is to make your way to a few of Paonia's locally owned wineries, like Qutori Wines (whose tasting room is in nearby Root & Vine Market. Afterward, take a tour of Delicious Orchards' U-pick cherry, peach and pear trees and grab a sandwich in their cafe. Stop into Chrysalis Beer for a local craft brew, and then head to Rio Bravo or Flying Fork for dinner.
Get Sidetracked
If you have a little more time, visit the Gunnison Gorge Wilderness Area's 17,000 acres of rivers, hiking and horseback trails, camping areas and historic sites.
Montrose is a great home base for accessing many of southwest Colorado's scenic and historic byways.
If you're visiting from early March to mid-April, make time to visit Fruitgrowers Reservoir in Eckert, where 20,000 greater sandhill cranes stop on their annual migration.
Want more? 
Spend two days exploring Gunnison and Crested Butte >>