West Elk Loop
Carbondale
205
NW of Kebler Pass
Fall
Summer
Mountains & Mesas
Rockies Playground
Allow 7
Trip Tips
The byway is beautiful in the summer but even more spectacular in the fall when the leaves change from green to rich reds, yellows and oranges.
Depending on the time of year, you're likely to see wildlife all along the byway, including elk, bighorn sheep, beaver, black bear and more — be sure to always maintain a safe distance.
The road is open all year except for a 31-mile section over Kebler Pass, which is closed in the winter.
See some of this byway's highlights — and read below for many more!
Shaped like a lasso that's been dropped on Colorado's pristine West Elk Mountains, the West Elk Loop scenic and historic byway unites three very different mining communities, gets within arm's reach of four diverse wilderness areas and stops into mountain towns like Crested Butte, Gunnison, Paonia and Carbondale. 
Start in the Roaring Fork Valley, where the hideaway of Carbondale takes in the view of Mount Sopris (12,953 feet) and welcomes visitors with galleries and boutiques — part of the Carbondale Creative District. The Thompson House Museum, built in the 1880s, contains all the original furniture and tools used by the owner. Later, head to Marble Distilling Co. for a sip of their Gingercello. 
Designed around the natural landscape and rock formations, Avalanche Ranch Cabins & Hot Springs has three natural pools in a tiered layout for ultimate enjoyment. 
The West Elk Loop then heads up the river, offering a stop in the historic hamlet of Redstone, situated snugly in the Crystal River Valley. On one side of the byway are beehive-shaped coke ovens formerly used for processing coal. On the other, you can tour the 42-room, Tudor-style Cleveholm Manor — now Redstone Castle — or stop for a hearty lunch at the Redstone Inn.
After crossing McClure Pass, the byway drops into the North Fork Valley, a region synonymous with cherry and apple orchards. Buy a bushel of nectarines from a farm stand in Paonia, snap a photo of the historic Curtis Hardware Store on Grand Avenue and pop into art galleries, artist studios and arts-related events throughout the town's Certified Colorado Creative District. Paonia is a lush landscape that produces an abundance of fruit and vegetables (though local cherries are tops). 
Before leaving, grab a meal at nido — the homemade tacos and tamales star locally sourced ingredients and fierce flavors, like jerk chicken and curried green tomato relish. Then check out West Elks AVA, a collection of North Fork Valley wineries offering a taste of Colorado's vino scene.
From the town of Hotchkiss, and after stopping at Big B's Fruit Company for ciders and juices, the route bends to the south and skirts the North Rim of the Black Canyon of the Gunnison, a 2,700-foot deep chasm, that is now preserved as a national park. No other gorge in North America combines the narrowness, depth and sheer drop-offs of the Black Canyon. Boat tours on Morrow Point Reservoir will take you into the famous canyon to learn about its geology and wildlife (reservations required). Or, stop at the Blue Mesa Reservoir, part of Curecanti National Recreation Area, where you can rent watercraft to zip around the sapphire-tinted water. Stick around at night for the area's infamous dark — named an International Dark Sky Park, you can see the Milky Way and zillions of other stars.
Next up is Gunnison, which is equal parts college town and ranching community, where wide streets tell the town's original hopes to be Colorado's future state capital. Stop by the Gunnison Pioneer Museum, located just outside the charming downtown, to see a railroad depot and re-created schoolhouse. 
Just off the byway, and tucked between Gunnison and Crested Butte, is Almont — a small and charming town well worth a visit, especially in late spring or summer when river rafting is at its best. Opportunities for other outdoor adventures abound in the area, from canoeing and kayaking to mountain biking and off-roading. North of Almont, you'll find the Roaring Judy Fish Hatchery, where you can stop, stretch your legs and marvel at pools of glinting kokanee salmon, rainbow and cutthroat trout being raised for future release.
Back on the byway, head north to Crested Butte, which is famous for its preserved Victorian architecture — and renowned ski resort. In the summer, there are so many blooming meadows the Colorado legislature dubbed it the Wildflower Capital of Colorado. The area is also a mecca for mountain biking. 
The Crested Butte Mountain Heritage Museum showcases the history of skiing in the town with an authentic Crested Butte Mountain Resort gondola, restored from the early 1960s. Walk through the community's National Historic District and pop into the galleries and shops that make up the Crested Butte Creative District, as well as Montanya Distillers for some craft cocktails. 
The circuit is completed by crossing over Kebler Pass, an area that locals cherish in September when massive groves of aspen bear bright-gold foliage. This section is closed during winter, when it becomes a popular route for snowmobilers. 
Events on the calendar: Mountain Fair in Carbondale, Crested Butte Music Festival, Pickin' in the Park in Paonia, Colorado Hard Cider Festival in Hotchkiss, Cattlemen's Days rodeo in Gunnison
Side Trips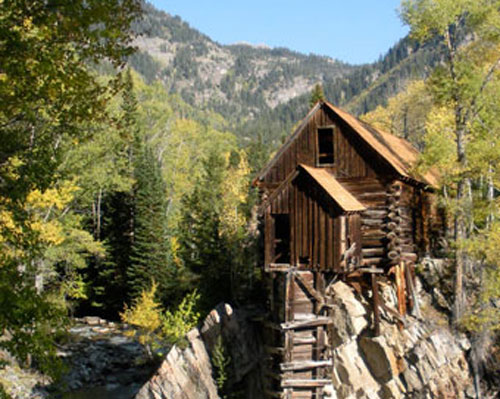 Marble
Tour Marble, a sleepy town, where some of the finest marble in the world has been mined, including that used in the Lincoln Memorial and the Tomb of the Unknown Soldier in Washington, D.C.
Glenwood Springs
Stop off north of Carbondale in Glenwood Springs, where historic hot springs will welcome travel-weary muscles.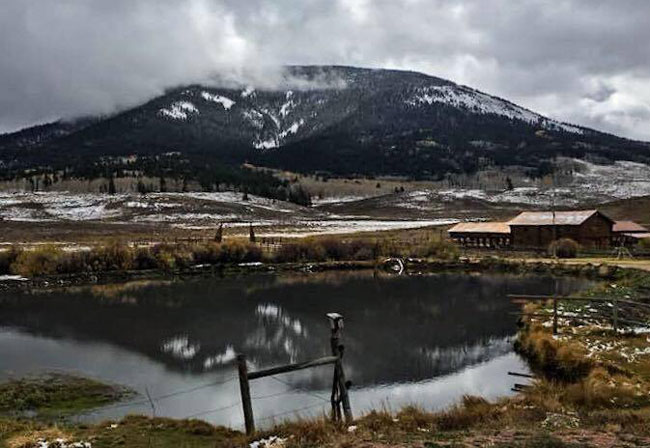 Waunita Hot Springs Ranch
See All Byways