Hotchkiss
This is orchard country. The rich basin area of the Grand Mesa along the West Elk Loop scenic byway, supplemented by high-tech irrigation, provides just the right kind of soil for growing sweet and juicy peaches and apples.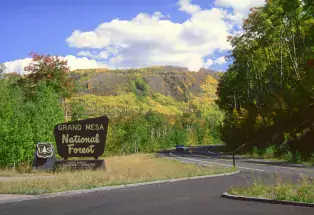 Hotchkiss has several fine lodging establishments, including the Leroux Creek Inn & Vineyard, an adobe structure with five guest rooms. This distinctive property offers a deck with sweeping views, friendly hosts, a 54-acre farm and grand breakfasts in an open kitchen. You can even borrow mountain bikes to explore on your own. Hotchkiss, with a population of slightly more than 1,000, offers several restaurants and is starting to develop a reputation for it's fine wineries, tasting rooms and visitor-friendly farms.
To delve into the history of the area, visit the Hotchkiss-Crawford Historical Museum, where a collection of saddles and clothes and a chuck wagon represent the lifestyle of the first settlers in the Gunnison River's North Fork Valley.
One of the town's biggest contributions to the state is fish: the Hotchkiss National Fish Hatchery is a major supplier of trout for Colorado and New Mexico reservoirs. You can tour the facility and learn about hatching and transporting trout. Fishing and hiking make up the most popular pursuits in the area.
Hotchkiss is also in a Certified Colorado Creative District known as the North Fork Valley Creative Coalition, an area full of galleries, artist studios, shops and arts-related events. Don't pass on a trip to the Creamery Arts Center, where you can admire the work of locals in the form of both art and ice cream.
Other Cities in the Region