Somerset
Somerset is tucked between two stunning national forests on the edge of Gunnison and Delta counties. This historic coal-mining community, which still produces some cleaner-burning coal known as black gold, is today a gold mine for outdoor enthusiasts.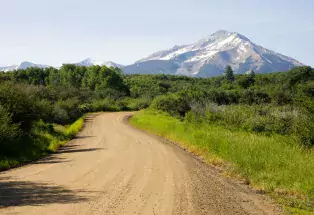 The town, hidden in southwest Colorado, is also part of the West Elk Loop Scenic and Historic Byway, a 205-mile journey that passes through some of Colorado's most dramatic landscapes. The route along Colorado 133 features spectacular mountain vistas, the Black Canyon of the Gunnison National Park, wide-open ranches and mining remnants of yesteryear.
Just west of Somerset is the turnoff to Kebler Pass, the scenic back route to Crested Butte. The pass is a popular four-wheel-driving and hiking destination during the summer, but the unpaved route is closed in the winter. Kebler Pass is also an ideal tour for viewing the changing of the aspen trees each September. Lodging is available at one camping and RV park with its own restaurant at the base of the pass.
In addition to the activities along Kebler Pass, Paonia State Park, located at the junction of Colorado 133 and County Road 12, offers boating, hiking and camping. One of Colorado's most picturesque state parks, it's an idyllic spot for photography.
Other Cities in the Region