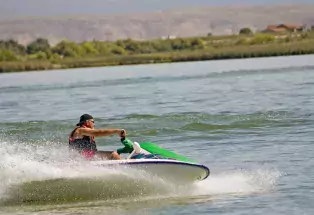 This town of nearly 9,000 residents has all the amenities, including several grassy city parks. Keep your eyes peeled: seven buildings downtown act as canvasses for local artists: murals depicting the local economy, history and natural surroundings. Another town symbol at the entrance to Delta is Ute Council Tree, an 85-foot cottonwood, once a gathering point for tribal discussions. Today the tree symbolizes the growing connections between Colorado Utes and the Western Slope's other residents.
Housed in an old firehouse, the Delta County Museum recounts the Western Slope's cultural heritage and natural history. The butterfly exhibit contains some of the only-known specimens from now extinct species. Step through time into the Fort Uncompahgre Living History Museum at the entrance to the 265-acre Confluence Park, where authentically garbed interpreters guide visitors through an old fur-trading post.
Stop by Confluence Park, a 265-acre oasis with hiking and bike trails, a swim area, picnic spots and fishing and river access. Sweitzer Lake State Park is a relaxing place for boating and birdwatching. Just outside Delta, dinosaur buffs should make tracks to Dry Mesa Quarry, the site where archeologists first discovered brachiosaurus and ultrasaurus bones. This dig-in-process is open to the public. Also nearby is the Dominguez-Escalante National Conservation Area, a stunning series of red-rock and sandstone canyons and bluffs popular with hikers, mountain bikers, wildlife watchers and fans of geology and paleontology.
Other Cities in the Region