Norwood
The rugged desert canyons surrounding Norwood suggest this town is, well, out there. But Norwood's remoteness is what makes the town so unique.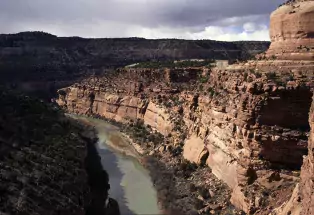 The community rests deep in the rocky San Miguel River Canyon on the Unaweep/Tabaguache Scenic and Historic Byway. The drive here is half the fun. Resting 7,000 feet above sea level on Wright's Mesa, Norwood affords sweeping views of the Uncompahgre Plateau to the north, the San Juan and San Miguel Mountains to the east and the La Sal Mountains to the far west. Look south and you'll spot Norwood's most famous geological marker, the 12,700-foot Lone Cone.
Lands around Norwood were first used as Ute hunting grounds. Later Spanish explorers and mountain men covered the territory, but no one settled in Norwood until 1879 when Edwin Joseph first homesteaded in the area. Ranching and mining took hold, and Norwood became an important supply town. Today, Norwood is a hub for cattle ranchers and outdoor enthusiasts.
While change has come to Norwood, like any other town in Colorado, this remote Southwestern town has done a stand-up job of protecting its Old West charm. Local artisans still sell handicrafts from old store fronts, cozy restaurants entice guests with hardy meals and hotels invite visitors to lounge and linger in a town where time seems to stand still. Norwood's geography, climate and "exquisite darkness" are one of the reasons its been named an International Dark Sky Community, making it a new destination for stargazers.
Nearby Miramonte Reservoir is a popular spot to windsurf, swim, sail and fish, while the lively town of Telluride is just 33 miles east of Norwood. Surrounding national forests and rivers also make Norwood a superior destination for hunting and fishing.
Other Cities in the Region