Dove Creek
With splendid mountain views in all four compass directions, this sleepy town derives its name from the wild doves inhabiting local waterways. These days, abundant yields from local farms make Dove Creek better known as the one of the pinto bean capitals of the world.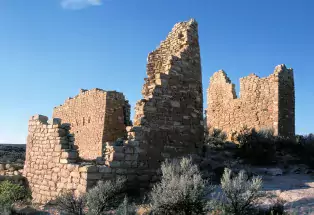 The area surrounding Dove Creek is a major archaeological center. Here the Ancestral Puebloan cultivated corn, squash and beans. These early residents also constructed the remarkable cliff dwellings at nearby Hovenweep, Chaco Canyon and Mesa Verde National Park.
In town, the adobe mill packages local pinto beans and runs a gift shop selling a variety of Southwestern gifts. Other attractions, all within a short drive from Dove Creek, include the Canyons of the Ancients Visitor Center & Museum in Dolores and the prehistoric villages at Hovenweep National Monument.
As for recreation, the Dolores River Valley and its dramatic canyons offer untouched trails and waterways for hiking, hunting, rafting and fishing. Secluded guest ranches offer guided horseback trips along picturesque canyon trails. This is the rugged Colorado of Western writer Zane Grey's books — and where he made his home. If you visit, you'll realize why. Dove Creek is where the light of the Western stars truly shine.
Other Cities in the Region