Hidden Colorado Gem: Hovenweep National Monument
Tucked in Colorado's southwest corner west of Cortez, Hovenweep National Monument protects six prehistoric, Puebloan-era villages spread over a 20-mile expanse of mesa tops and canyons.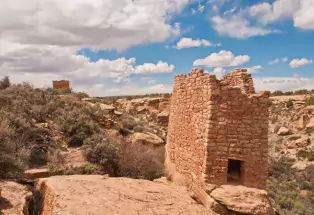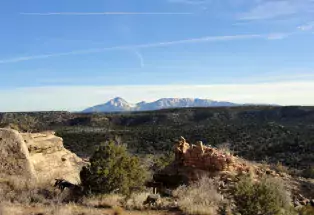 Hovenweep was home to many thousands of Ancestral Puebloan people from 600 AD to 1300 AD, long before the first European stepped foot onto this continent. Along with the nearby Canyons of the Ancients National Monument, the landscape is an other-worldly preserve that have been wholly unchanged for hundreds of years.
In fact, the two monuments occupy one of the densest concentrations of archaeological sites in North America. A good way to see all the major ones (including Mesa Verde National Park) is along the 114-mile Trail of the Ancients Scenic Byway.
At Hovenweep, most visitors begin exploring at Square Tower Group in Little Ruin Canyon near the visitor center to get a first glimpse of the Puebloans' expert masonry. Still-standing circular towers, walls with pictographs, kivas (ceremonial underground rooms), stone dams and more can be found along Hovenweep's several short hiking trails. Square Tower Group Trail is accessible from the visitor center to the first overlook, and the monument also offers an accessible campsite. Learn more about accessibility at Hovenweep National Monument >>
Docents at the visitor center can provide information, but there are no guided tours, so you're on your own to wander the villages and hiking trails. A small campground is open year-round on a first-come, first-served basis.
Want More?
Thirty-five minutes east is the Canyons of the Ancients Visitor Center & Museum, where travelers can find answers to questions about the people who lived here so long ago. Many visitors opt to start here before exploring the area.
Nestled in the hillside near Dolores, the center holds artifacts, photos and information from excavations across the Four Corners region, including pottery, jewelry and sandals. Exhibits on archaeology, history and Southwest American Indian culture describe life here for the first inhabitants. On the hilltop sit two ancient sites, the Dominguez and Escalante pueblos, with views of the mountains far beyond.
Lowry Pueblo is another well-preserved settlement that once contained 40 rooms and eight kivas. Built almost 1,000 years ago, the main building is sheltered by a metal roof to preserve the remaining walls. Probably several days' walk from Hovenweep in the Ancestral Puebloan times, today the site is a place to sit quietly next to walls of finely hewn sandstone and contemplate life here centuries ago.
Find other scenic hidden gems in Colorado and learn about our other national monuments.
Photos: Copyright flickr/Graeme O. Churchard; copyright flickr/Graeme O. Churchard; courtesy of Craig Pierce.