Gateway
A general store, cafe, tiny hotel and beautiful resort mark one of Colorado's westernmost communities, aptly dubbed Gateway.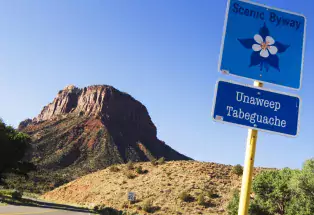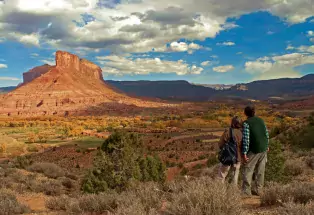 The town's name denotes its location at the entrance to Colorado from bordering Utah, and the surrounding landscape reveals something of both states. This rugged and remote town near John Brown and Unaweep canyons offers access to untouched backcountry adventures in the La Sal Mountains and Uncompahgre National Forest. However, visitors looking for adventure should be aware that sudden rainstorms can quickly flood desert arroyos. The Dolores River also runs from high in the San Juan Mountains through Gateway to the border of Colorado. Class III and IV whitewater rapids rush along the five-mile stretch through challenging Paradox Canyon.
Gateway sits along the 133-mile Unaweep/Tabeguache scenic and historic byway, which winds through red sandstone in the spectacular Unaweep Canyon. Here erosion exposes fossil-laden layers of the Uncompahgre Plateau. Sheer cliffs, raging rivers and endless skies mark this wild and scenic part of the state.
Gateway Canyons Resort is a beautiful oasis with access to mountain biking, horseback riding, hiking and climbing, fishing and rafting, an auto museum and much more, all set amid the area's unique setting.
Stop into the Gateway Auto Museum, which celebrates the history and design of the American automobile in a gallery with more than 50 vehicles, including one-of-a-kinds like the 1954 Oldsmobile F-88 concept car, as well as a 1906 Cadillac Model H Coupe and other rare finds from Packard, Pierce Arrow and more.
Other Cities in the Region