Cedaredge
A stop along the picturesque Grand Mesa Scenic Byway, where the Grand Mesa's southern slopes meet the Uncompahgre and Gunnison River valleys, Cedaredge affords pleasant views of orchards, vineyards and stately groves of white ash. This hospitable town offers cozy, rustic rooms and access to hundreds of trout lakes.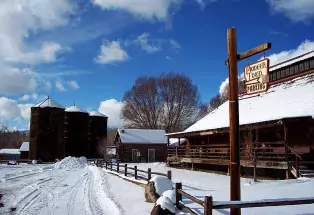 For a relaxing hangout, head to the shady city park in the heart of town. Two blocks away, mosey down the Main Street boardwalk in Pioneer Town Museum, Cedaredge's 19th-century Western village complete with frontier museums and more than 20 original or reconstructed buildings, including a blacksmith shop, jail, saloon and schoolhouse. Pause at The AppleShed, which is just what it sounds — a refurbished apple shed! — to browse amongst locally made art and sample wine. Then book your tee time at Cedaredge Golf Club for all the Colorado scenery you could ask for.
To experience the real flavor of Cedaredge, sample delicious wares during the city's annual Applefest each October. Residents and visitors welcome the apple harvests with booths, games and virtually every known way to enjoy local produce. Applefest activities include a scarecrow contest, a wine and beer garden and an antique tractor show.
The towns of Cedaredge, Crawford, Delta, Hotchkiss, Orchard City and Paonia are a growing organic-food and wine region with winery and farm tours, wine tastings and farm dinners. The West Elks Wine Trail meanders past nine wineries throughout the area — keep an eye out for spots to buy fresh, organic fruit and veggies.
Other Cities in the Region