Naturita
This remote crossroads in the Uncompahgre Valley rests in Colorado's far southwest corner.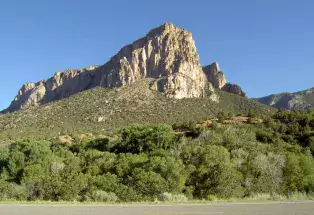 Located in one of the state's most stunning valleys, Naturita is part of the Unaweep Tabegauche scenic and historic byway. The 138-mile driving tour offers dramatic views of the San Juan Mountains as it follows Colorado 141 and 145 through the Unaweep Canyon, desert-like Dolores River Canyon and up into high plains. Ancient rock outcroppings and red sandstone formations still holding fossils from Precambrian times also mark the trail. The drive is especially spectacular when wildflowers peak in July or during the changing of the aspens in September.
Surrounded by Bureau of Land Management land and the Uncompahgre National Forest, which is comprised of more than a million acres, Naturita is an ideal destination for hunting, wildlife watching and stargazing (it's an International Dark Sky Community, after all). Additionally, the community's proximity to the Dolores River makes it a popular spot for fishing and rafting. Quiet camping spots are located at the nearby Buckeye and Miramonte reservoirs.
In town, you'll find a handful of services and a visitors' center that will help point you in the right direction.
Other Cities in the Region