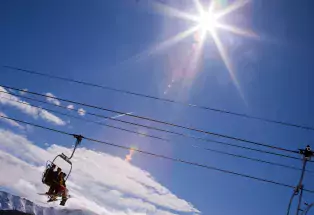 Just 35 miles east of Grand Junction, the slopes of Powderhorn are located 4,000 feet above the Grand Valley floor.
This hometown resort combines wonderful skiing and snowboarding with breathtaking views in a friendly, personal atmosphere. The base elevation is 8,200 feet, with a vertical drop of 1,650 feet. Powderhorn prides itself on offering tremendous value for great winter and summer fun.
Powderhorn has surprisingly expansive base facilities and the mountain layout feeds centrally into it. There are no long lift lines or expensive lift tickets. They proudly maintain groomed corduroy runs, but there are also plenty of challenging bump runs and glades to play in. Powder stashes can be found all day on Powderhorn's roomy slopes. 
If you've never been on skis or a snowboard, Powderhorn is an easy place to learn. Spend time with certified instructors who genuinely love to teach. The classes are small and kids younger than 8 ski and play in their own area. The kids won't get lost, and the family friendly attitude makes it the ideal getaway for a day, a weekend or longer. This is a place with no crowds and no hassles.
Powderhorn also offers nearby accommodations just steps away from the lift, plus on-mountain dining.
Visit the resort in summer for camping and lift-assisted, downhill mountain biking that includes lessons and rentals.
Want more? Read Fine Wine to Fossils, an itinerary of things to do in the area.
Other Cities in the Region