Fine Wine to Fossils: A Grand Junction-Area Itinerary
The area around Grand Junction, Palisade and Fruita has made a name for itself as the heart of Colorado wine country. But vino is just one of the region's great qualities. Nearby are thousands of miles of hiking and mountain-biking trails, phenomenal golfing, buzz-worthy dining options, dinosaur fossils and whitewater rafting.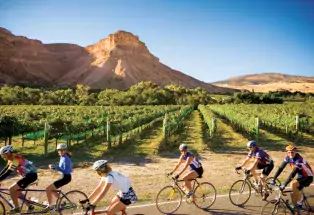 About the only thing the Grand Junction area (often called the Western Slope) doesn't have is gridlock — but we're willing to bet you won't miss that.
Day 1
One of the largest flat-topped mountains in the world, Grand Mesa rises above 10,000 feet and is topped by virgin forest and more than 300 bodies of water, with virtually limitless mountain-biking trails that range from mild to intense. You can rent a bike from Palisade Cycle and Shuttle in Palisade before making the hour or so drive to the mesa. Even if you don't ride, the journey through towering aspen groves is still a must-see.
Mountain-bike trails lace the area, including the new Palisade Plunge — a 32-mile high-speed singletrack ride connected to the town of Palisade. Pick up a map at the entrance to town to discover all that's within reach.
The Colorado River is accessible to kayaks, canoes, rafters and paddleboards. There's also the Riverfront Trail's Monument View section, which runs 28 miles along the river from Fruita to Grand Junction. The trail's Connected Lakes section has four lakes strung together for great SUP-ing, fishing and kayaking. The surrounding Audubon area is home to more than 200 different species of birds, just minutes from the city.
Or take a two-hour turn on the Grand Mesa Scenic and Historic Byway, which winds through aspen groves and past colorful skree fields. The Palisade Fruit & Wine Byway is another way to see the area, routing through orchards, lavender gardens, vineyards, fruit stands and river views. Along the way, you'll spy the Bookcliff Mountains, named for their shape and one of the only east–west ranges in the U.S.
Head back to Palisade for lunch, where tacos at Fidel's Cocina & Bar showcases the region's delicious Southwestern flavors. Or have dinner at Grand Junction's wildly popular Bin 707 Foodbar, where chef Josh Niernberg serves up a menu crafted from the Grand Valley's best farmers, winemakers and brewers. 626 on Rood, Café Sol and TacoParty are a couple of other must-eats for local flavors.
Next, take a leisurely bike ride through wine country, which has few, if any, hills. Stop into Carboy Winery at Mt. Garfield Estate, Meadery of the Rockies and Maison Le Belle Vie along the way from or back to town.
For dinner, Pêche is Palisade's upscale bistro, offering a nice selection of seasonal American fare and many local wines. The town, despite being just 2,500 residents, has a lively night scene, too. Peach Street Distillers, a manufacturer of award-winning, locally made spirits, is a great place to unwind and taste some truly original liquors. A short walk away is the Palisade Brewing Company, a fun place to enjoy locally crafted suds (and amazing sandwiches).
Find Colorado crops at their source: Get your hands dirty with Sage Creations Organic Lavender Farm's u-pick experience, and several orchards also offer pick-your-own ops, including Fruit Basket Orchards, Green Barn Fruit Company, Palisade Peach Ranch and Bolton's Orchards & Farm Market (call ahead to confirm availability), in addition to the fresh-produce stands found throughout the region.
By the end of this day, you'll be ready to fall into bed at one of the town's cozy bed and breakfasts.
Day 2
The Golf Club at Redlands Mesa in Grand Junction is one of the highest rated public courses in the country. Start your morning here, bring some extra golf balls and expect a high score — the sprawling views are guaranteed to distract even the most focused pros.
Or start your morning in downtown Grand Junction, where locally owned brunch hotspots' outdoor seating areas let you bask in the morning air. Work off that extra helping of hash browns by strolling walkable streets lined with galleries, outdoor sculptures and gift shops, as well as a Thursday farmers' market and other fun events. See if the Grand Junction Jackalopes have a home game. The MLB partner league team play at the city's scenic Suplizio Field. Or head to Three Sisters Park located just minutes from downtown Grand Junction for 130 acres of gentle hiking and biking terrain.
Those looking to get their heart rates up have a few new options: Jet Boat Colorado operates its fast ride on the Colorado River; Get Air at the Silo has a trampoline, cave climb and other adventures; river trips with Rimrock Adventures will blow your mind; and Grand Junction Adventures offers river tours from a different perspective via stand-up paddleboard. Or head to Powderhorn Mountain Resort, now open during the summer with lift-assisted downhill mountain biking, including rentals, lessons and an expanding trail system. And Colorado Flight Center now has scenic air tours that highlight "the best of the West," including incredible perspective on Colorado National Monument. The area is also home to Colorado Parks & Wildlife's Cameo Shooting and Education Complex, designed for shooting competitions and a place where kids can learn about the safe use of fairearms
Grand Mesa gets a lot of attention for being so massive, but equal splendor lies west of Grand Junction at Colorado National Monument. Within just a few miles, the landscape changes to otherworldly desert. Red-rock canyons and clear rivers dazzle and can fill up a digital camera's memory card in a blink. Drive the 23-mile scenic Rim Rock Drive, which affords plenty of pullouts for viewing and hiking, or take part in a ranger-led program that explores everything from geology to the region's wildlife. A drive farther west will take you to McInnis Canyons National Conservation Area, where trails trace stunning formations for hikers prepared to make a long trek.In the summer, hook up with the Western Colorado Astronomy Club to see the Milky Way above the canyons.
The truly serious biker may want to add another day to the itinerary in order to explore the mountain-biking trails around nearby Fruita, offering what is arguably the finest network of singletrack in Colorado. Over the Edge Sports and Colorado Backcountry Biker are two shops that can set you up with maps and information on the best trails for your taste. The landscape here is true desert, with buffed-out trails that wind through sagebrush and past endless vistas. The town is also a popular destination for ATVers who love desert trails, and rock crawlers find vast and varied terrain in the North Fruita Desert area. Adrenaline Driven Adventures can set you up with side-by-sides and tours. And golfers experience year-round bliss, canyon-country views and 27 holes at Adobe Creek National Golf Course.
Stop into downtown's Cavalcade, an intimate performance area in Fruita's growing downtown, where you can relax and listen to some music. Or head back to Grand Junction and stroll downtown's historic streets. Several fine restaurants cater to those looking to sample regional ingredients and support local farmers. Read about more things to do in downtown Grand Junction and other Colorado cities.
Days 3 & 4
With its craggy hills and unparalleled collection of prehistoric artifacts, the beautiful Dinosaur National Monument is worth the additional four-hour trek from Palisade. There are thousands of fossil types in the monument, and it's still an active research area — a team of paleontologists discovered a new, large plant-eating dinosaur in early 2010. Be sure to visit the Gates of Lodore, spectacular red canyon walls that tower over the Green River, which popular with rafters and campers.
On the way, stop in Rangely. Once the site of a Ute trading post, take see prehistoric rock art from the Ute and Fremont tribes in Canyon Pintado. Maps and information are available at the Rangely Automotive Museum, just east of town. The museum itself is a unique stopover, with a collection of one-of-a-kind and classic automobiles and motorcycles. The town is also a hub for hunters, fishers, golfers, OHV riders and rock crawlers. Bring your telescope for night skies — you can the see spectacular night skies all year long.
Or, get sidetracked east toward Meeker's 250-mile ATV trail system through the White River National Forest to explore some of Colorado's finest wilderness. Visit in July for Colorado's oldest rodeo, the Meeker Range Call, or September for the famed Meeker Sheepdog Trials.
Winter Fun
Family-friendly Powderhorn Mountain Resort is located on the Grand Mesa near Grand Junction, where skiers and riders see something more like the Grand Canyon than the typical alpine view. They recently expanded with a new high-speed Poma lift so skiers can fit in more runs. Another amazing new service: Ski Patrol Ski Along, your own personal guide to the mountain! Consider staying at the new base-area's tiny homes.
Elsewhere, the Grand Mesa Nordic Council maintains 50 kilometers of cross-country trails. Several trailheads have warming huts.
Want More?
Check out related Colo-Road Trips itineraries: Fruita Experience, Western Slope Exploration and 3 Days in Grand Junction.