National Western Stock Show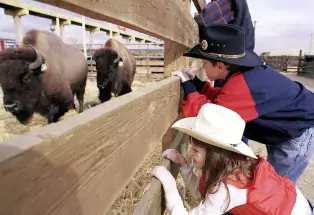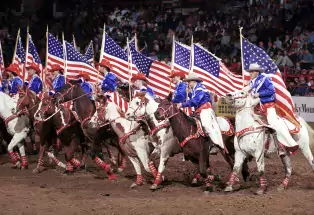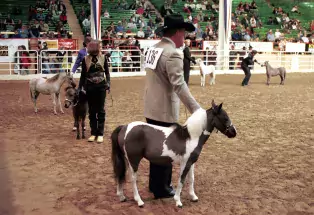 For the last 113 years, thousands of visitors from across the country have come out to see more than 15,000 animals, rodeo performances, bull-riding competitions, dancing-horse shows, barrel racing, auctions and booths selling everything from cowboy boots to cookware to golf vacations.
Get eye to eye with a steer that weighs more than your car, watch sheep dogs gently herd their fluffy friends into a pen, be dazzled by the artistry of trick roping in the Mexican Rodeo and, of course, eat a funnel cake. There's also a Western art show, an African American Heritage rodeo and a Super Dogs show with tricks, stunts and choreographed performances.
National Western Stock Show Activities
Two days before the start of the stock show, a group of steers are paraded through the streets of downtown Denver, which is quite a sight amid the city's skyscrapers and coffee shops and a sure sign the city has gone stock-show crazy.
Rodeos are held each day of the event, with local and pro riders, ropers and a slew of animals strutting their best stuff. Other events that fill out the schedule include freestyle reining, draft horse and dancing horse performances, elite jumping horse competitions, mutton bustin' and much more.
Ever see a cow under a hair dryer? Walk among the barns to see the region's top livestock, getting prepped and primped for competition and sale, including horses, cattle, sheep, swine, goats, llamas, alpacas, bison, yak, poultry and rabbits.
It's not all horseshoes and 10-gallon hats. The Coors Western Art Exhibit and Sale runs during the show within the National Western Stock Show Complex, featuring landscape paintings, livestock sculptures and photography of dozens of artists who celebrate the area's Western heritage. 
Find the full National Western Stock Show schedule >>
• Greeley Stampede: June 22–July 4, 2023
• Steamboat Springs Pro Rodeo: Fridays and Saturdays, June 23–Aug. 26, 2023 (including the Fourth of July)
• Gunnison Cattlemen's Days: July 13–15 2023
• Colorado State Fair: Aug. 25–Sept. 4, 2023