Battle for Colorado's Official Drink: Beer, Wine & Spirits
Colorado may be known for its brews, both craft and big-name (those waterfalls in Coors' marketing really are in Colorado), but our wine and spirits industries are hot on the brewers' heels.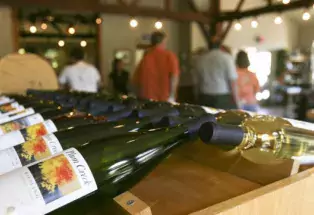 Come taste our locally crafted beers, wines and cocktails to decide for yourself who takes top honors.
Colorado Beer
We have former Colorado Governor John Hickenlooper to thank for Colorado's first brewpub, Wynkoop Brewing Company. He opened it in 1988.
Denver is one of the top cities in the United States for craft breweries per capita.
The Great American Beer Festival, held every fall in Denver and the largest festival of its kind, gives patrons access to more than 3,200 beers from more than 800 breweries from across the country.
Five Colorado Craft Brews to Try:
1. Dale's Pale Ale, Oskar Blues Brewing Co. (Lyons): Oskar Blues is a trailblazer for putting craft beer in cans; Dale's Pale Ale is their flagship beer and has become an iconic Colorado brew.
2. Green Silo IPA, Wynkoop Brewing Co. (Denver): This malty, slightly floral IPA delivers a kick: a 6.8% ABV.
3. Valle Caliente, San Luis Valley Brewing Co (Alamosa): This chili-infused lager channels the Mexican flavors of this southern Colorado outpost.
4. 1554, New Belgium Brewing (Fort Collins): This black ale has a silky feel and notes of coffee and dark chocolate.
5. Modus Hoperandi IPA, Ska Brewing Co. (Durango): With roots in southwest Colorado, Modus Hoperandi IPA is making its way to beer lovers in this state and beyond with a hoppy and pine-infused flavor with notes of grapefruit.
"People in this industry are so passionate, so motivated to bring the entire beer industry up a notch every single year. And the craft beer movement has spread from here — people are buying beer in Colorado and taking it back home to enjoy." —Steve Kurowski, marketing manager, Colorado Brewers Guild
Colorado Wines
Colorado is home to two American Viticultural Areas (AVAs), a federally given title that helps vintners and consumers identify the source of a wine. Both are in the Grand Valley of western Colorado near Grand Junction.
Colorado Mountain Winefest, held every September in Palisade, is the state's largest, drawing about 8,000 attendees each year for winery tours, seminars, competitions and demos from hotshot chefs.
Five Colorado Wines to Try:
1. Bookcliff Vineyards Syrah (Boulder): "Aromas of dark berries and stone fruits, coco, and a hint of black licorice."
2. Whitewater Hill Rkatsiteli (Grand Junction): "Floral and lemongrass character with bright notes of orange zest."
3. Plum Creek Late Harvest Sauvignon Blanc (Palisade): "A luscious dessert wine with pure peach, apple and tropical fruit."
4. Winery at the Holy Cross Abbey Wild Cañon Harvest (Cañon City): "A wonderful blend of 30 grape varieties from over 100 growers in Cañon City. A sweet rose table wine, light and fruity."
5. Two Rivers Merlot (Grand Junction): "Fresh aromas of bing cherries, pome-granate, and mocha give way to a smooth, crushed velvet texture and a pleasant, dried cherry finish."
"What's great about experiencing our industry is finding out what Colorado tastes like and seeking the unique personality of the wines created in these locations, as well as the personalities of the people shaping the flavors of the wine." — Doug Caskey, executive director, Colorado Wine Industry Development Board
Colorado Spirits
Colorado has nearly 100 craft distillers (and growing!).
More distilleries are cropping up all the time, and there's something uniquely cool about each. Mythology in Denver's LoHi, for example, serves a gin made with botanics from Denver Botanic Gardens. 
Five Colorado Cocktails to Try:
1. The Golden Bow, SALT (Boulder): Spring44 gin, lemon, orange curaçao, Bénédictine and orgeat. 
2. The Palace Mule, Ship Tavern (Denver): Vodka, Q ginger beer and lime juice.
3. Poco Loco, The Dogwood Cocktail Cabin (Crested Butte): Vodka, pineapple, habanero and honey.
4. The Don Draper, Root Down (Denver): Citrus-infused bourbon, Demerara and Angostura bitters.
5. Kiss The Sky, Bitter Bar (Boulder): Gin, Domaine de Canton, lavender and fresh lemon.
"The truly handcrafted, all-natural aspect rolls over into all the Colorado distilleries. They locally source everything they possibly can, from the juniper berries to the herbs. It's almost as cool now to do a tour of a distillery as a microbrewery. The industry is growing so quick, even I can't stay on top of it!" — Apryl Boyce, president, Diamond Distributors
Want more?
Check out our Colo-Road Trip itinerary: Explore the Crafted Beverages of Southwest Colorado
Take a deep dive into our Colorado's Liquid Arts™ scene
Photos: Copyright flickr/MacKinnon Photography, Matt Inden/Miles, Matt Inden/Miles