Lyons
Nestled in the foothills of the Rocky Mountains, Lyons is a hip little town that's the perfect place to stay — and play — for a while.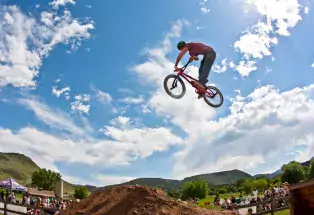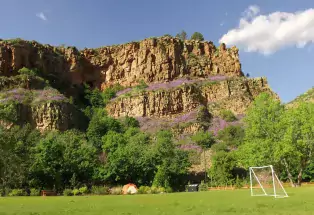 Lyons Chamber of Commerce
443 Main St., Lyons, CO 80540
432 Fifth Avenue, Lyons, CO 80540
This small, intimate community is known as the Double Gateway to the Rockies for its dual highways that take you up the North and South St. Vrain Canyons to Rocky Mountain National Park (just 20 miles west) and beyond.
But you'll also find plenty of outdoor adventure right in town: At LaVern M. Johnson Park, you can ice skate in winter or cool off on the splash pad come summer. With camping for tents and RVs, you can soak up the alpine sights and mountain air.
The gentle rapids of the St. Vrain River are ideal for both fly-fishing and tubing fun. For a little more excitement, Lyons Whitewater Park boasts a quarter-mile of features like pools and eddies to delight tubers and kayakers.
Or, stick to dry land at the Dirt Jump Bike Track, a unique pump track made from natural materials that mimics the atmosphere of nearby open spaces. You'll find the area's trail network offers myriad possibilities for hiking and mountain biking, with popular spots including Heil Valley Ranch and Rabbit Mountain. Marvel at the skills of world-class trail runners, kayakers and mountain bikers — and the flavors of 100 breweries — at June's Lyons Outdoor Games.
Lyons is also a hub for arts and culture, and the town is studded with public art installations. Numerous galleries overflow with creative wares, from ceramics and jewelry to authentic American Indian artwork.
The town is also a premier music destination and home to Planet Bluegrass, a 20-acre outdoor concert venue. Lyons hosts year-round music festivals, with an emphasis on bluegrass and folk, including RockyGrass, Rocky Mountain Folks Festival, Winter Wonderland Music Series and the free Sandstone Summer Concert Series.
Great musicians call Lyons home, so you may hear their melodies drifting through the town during a porch pickin' session. Likewise, many coffeehouses, restaurants and bars entertain with live-music performances.
Local craft brewery Oskar Blues Grill & Brew is no exception to the in-house entertainment rule. Unwind after a day of mountain fun with nationally loved beers, such as Dale's Pale Ale and Mama's Little Yella Pils. Or, opt for the unique twist provided by limited-release series: Past flavors have included Death by King Cake and French's Mustard Beer.
The visitor center in Sandstone Park has complete information about nearby Rocky Mountain National Park, places to stay and eat, maps of the area, hiking destinations, campgrounds and local events.
Other Cities in the Region