Superior
The housing-focused town of Superior's population has tripled in a matter of a few years. This growing community situated on the Boulder-Denver Turnpike (U.S. 36) might also be as popular with travelers looking convenient amenities all in one location.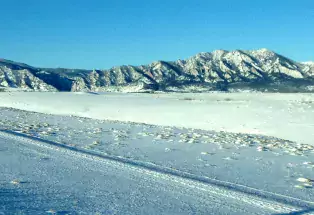 Most businesses are concentrated along McCaslin Boulevard, with a number of stores clustered at the Superior Marketplace.
Two other community parks also make for interesting stops in Superior. Purple Park at the entrance to Rock Creek subdivision features big trees, a stream and a large playground. At Grasso Park behind Superior Town Hall, visitors can explore the town's past at the original jail and a homestead house. Superior is also bordered on one side by Boulder County Open Space, which offers links to an extensive network of trails. Of course, Superior is also located just five minutes from Boulder and 30 minutes from Denver, both of which offer a wide range of activities such as shopping, dining, cultural attractions and nightlife.
Long before the town annexed additional land for subdivisions, Superior got its start as a coal-mining hub in 1861. At its height, a railroad ran through town and downtown featured saloons, pool halls, a general store, barbershop and boarding houses. The town's roots may be in coal, but any remnants of the dirty ore have been replaced with shiny modern, homes and businesses.
Other Cities in the Region