Red Feather Lakes
Located in the Rocky Mountains northwest of Fort Collins, this rustic mountain village is far from hectic city life.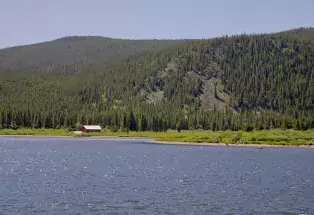 Surrounded by the 612,000-acre Roosevelt National Forest, the Red Feather Lakes area is a year-round outdoor playground that offers beautiful scenery, diverse wildlife, hiking trails and cozy mountain retreats. The nearby Cache La Poudre River, Colorado's first designated Wild and Scenic River, is the area's best spot for whitewater rafting, kayaking and fishing. Serene Red Feather Lakes is also the perfect place for idling under the sun with a good book, and the Cache La Poudre-North Park scenic and historic byway is a great way to explore the region.
The area was first settled by loggers and ranchers around 1900, and some deserted homesteads are still strewn throughout the mountain landscape. A guest ranch, trading post and nearby restaurants provide visitors with all of the comforts of a fine vacation, a romantic getaway or a full week for the entire family. Guests will find a number of additional lodging options, including B&Bs, rental cabins, RV parks and campgrounds. A gift shop is also tucked in the shadows of this scenic mountain community.
One unique attraction near Red Feather Lakes is the Drala Mountain Center, a Buddhist retreat that hosts meditation sessions, educational programs and contemplative conferences. The center is also home to North America's largest stupa. Open to sightseers of any religion, the dramatic 108-foot temple-like structure represents the aspiration for peace, harmony and equanimity for all beings. Nearby Beaver Meadows Resort Ranch will get you situated for horseback riding, sleigh rides, fishing and more, and Red Feather Guides & Outfitters in Walden (about an hour and a half away) will show you some of the area's best fishing and hunting locales.
Want More?
Read Colorado Views & Brews: 1 Day in Fort Collins.
Other Cities in the Region