Bailey
Situated along a scenic curve in the South Platte River, rustic Bailey serves up healthy doses of beautiful canyon scenery. Its mountain-wilderness backdrop lends a particular charm to this sleepy mountain town.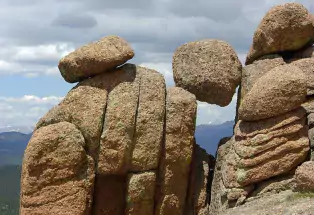 Read A Long Weekend in Park County: Fairplay, Alma, & More
The 20-acre McGraw Memorial Park features several historic structures, including an 1864 log cabin and a one-room schoolhouse from 1894. The park leads to a trail offering another 10 acres for nature exploration. Recent improvements to the park include picnic facilities, trout-fishing enhancements and a whitewater kayak launch.  
Bailey sits just outside the Lost Creek Wilderness Area in the Pike National Forest, where week-long backpacking trips and day hikes are popular. The logging roads and pack trails crisscrossing the area's hilly terrain are a mountain biker's dream and first-rate fly-fishing opportunities abound.
The town is also a gateway to Park County's South Park National Heritage Area, which encompasses an array of landscapes and historic sites that showcase Colorado's iconic mining and ranching heritage. Or learn about everything bigfoot at the quaint museum at the Sasquatch Outpost. 
If your stomach's begging for a pit stop, the local eateries should satisfy the craving. Some delicious options include Coney Island Boardwalk, a fast-food joint and road-side attraction in a building shaped like a giant hot dog, and Cutthroat Cafe, where you fill your belly with hearty burgers and hot sandwiches. Whether you stop in Bailey for a quick lunch or a weeklong excursion, be on the lookout — a herd of bighorn sheep live in the mountains just outside town.
For an itinerary of things to do in the area, read The Real South Park.
Other Cities in the Region