Johnstown
Located in the heart of the northern Front Range, Johnstown rests in a scenic farm valley.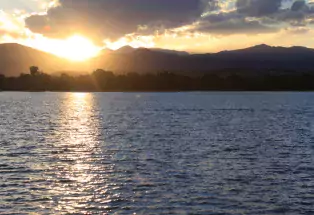 Although new housing projects are developing rapidly and families are moving to this centrally located community, Johnstown remains committed to its simple roots and a quiet lifestyle. Every Friday in August, for example, farmers from around the county sell their wares — mostly in-season vegetables — on Johnstown's Parish Street.
Parish Street is the heart of downtown, a place where visitors can slip into a local bar or restaurantsor just wander quiet streets. For a livlier night out, catch dinner and a show at the Candlelight Dinner Playhouse.
The Historic Parish House and Museum on Charlotte Street is the original Arts and Crafts-style home of Johnstown's founder, and it's a good place to learn about the real history of this farm-based community. Guests can thumb through historical artifacts and volunteers will share tidbits from the past. Johnstown's central location also makes it an easy launching point for visiting other unique Colorado towns, including down-home Greeley and the quaint art town of Loveland. To enjoy the great outdoors, locals head to Poudre River outside Fort Collins and further north into Rocky Mountain National Park.
Other Cities in the Region