Erie
This former coal town, resting on the Boulder-Weld county line, was first settled by a Methodist minister from Erie, Pennsylvania. When coal was discovered to the east and a railroad spur connected the town to Denver and Cheyenne, flourishing Erie quickly became the third-largest town in the county.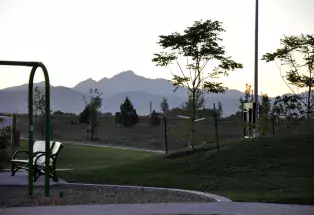 After the mining boom, agriculture took root in the western part of Erie and the community's flat pastures began to support farmers rather than miners. Stop into the 1870s Wise Homestead Museum on Saturdays to see a "Western Victorian" farmhouse — one of the oldest frame houses in the county.
While in town, amble down Briggs Street for a glimpse of historic downtown Erie and some of the best restaurants in town. Erie recently added a new championship golf course, Colorado National Golf Club. The course, like the community, offers sweeping views of the Front Range during all 340 annual days of sunlight here. Erie Lake and Thomas Reservoir both have walking trails and good spots for fishing and picnicking. Stop into town in mid-September for Erie Biscuit Day.
Although suburban in nature, Erie has seen a recent surge in new families, homes and businesses. With its proximity to both Denver and Boulder, the town provides an affordable middle ground for people working in either city. It's also close to the Broomfield area's high-tech corridor as well as the conveniences and cultural activities of neighboring Lafayette, Louisville and Longmont.
Other Cities in the Region