Idaho Springs
Colorado's mining history begins in Idaho Springs where the state's first gold was discovered 1859. Its Argo Mill and Tunnel was instrumental in ore processing and transportation to the Denver Mint. Within the town you can both step into the past and discover the flourishing hub of Colorado's gold country that remains today.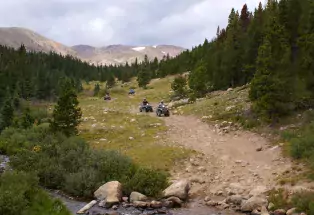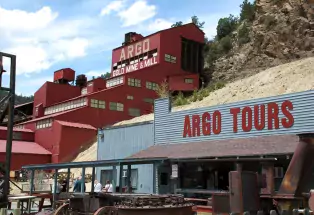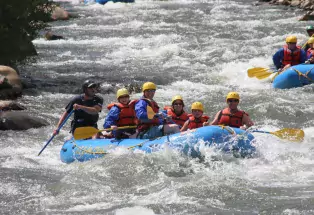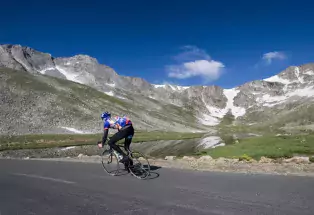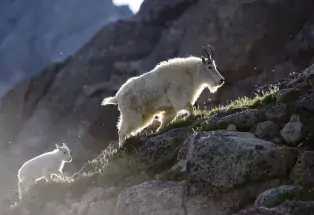 Horseback riding through golden aspen leaves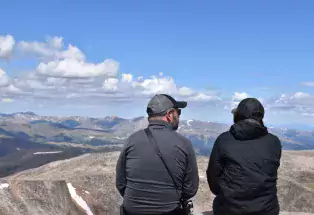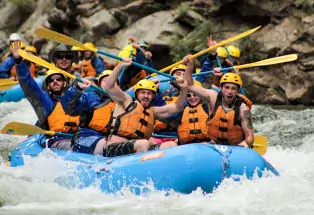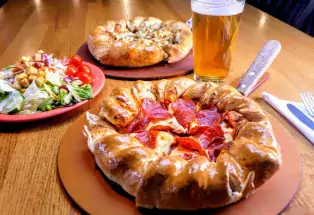 Clear Creek County Tourism Bureau – Idaho Springs
P.O. Box 100, Idaho Springs, CO 80452
things to do in Idaho Springs
Idaho Springs is more than the perfect place to stretch your legs when I-70 traffic backs up: It's also a quintessential historic Colorado mining town — brimming with modern-day adventures. Just 20 miles west of Denver in Clear Creek County, you'll find world-class whitewater rafting on Clear Creek, art galleries, boutiques, craft breweries, hot springs, ziplines, museums, trails to explore and so much more.
You'll recognize the town from I-70 when you spot the iconic Charlie Tayler Waterwheel along the Peaks to Plains Greenway Trail or catch sight of the historical buildings that line the streets. But you'll see that's just the beginning once you pull into town. Savor the flavors of mountain-style dining at Idaho Springs restaurants, including MTN Prime and Beau Jo's Colorado Style Pizza. Sip locally crafted brews and ciders at Tommyknocker Brewery, Westbound & Down Brewing Company and Clear Creek Cidery. Stroll along Miner Street and read plaques about the history of the buildings in this charming mountain town, which now house an array of locally owned and operated boutiques where you can shop for souvenirs, candy and outdoors gear.
Don't miss the Argo Mill and Tunnel where you can take a mine tour to explore the gold mill and what was once the longest mining tunnel in the world. Just across the bridge is the Heritage Museum and Visitor Center with exhibits on the state's prospecting history, wildlife and the 10th Mountain Division (a specialized infantry division that trained in Colorado's mountains). The museum also marks the official start of the Mount Blue Sky scenic and historic byway.
Dig deeper into the rich roots of Colorado Gold Rush days with a visit to the nearby Phoenix Gold Mine, family-owned and -operated since 1875. Here you can experience a working gold mine, learn about mining techniques and even do a little gold panning yourself. Looking for a themed meal to round out the day? Head over to Pickaxe Pizza for wood-fired pizza, tacos, salads and more — served in a dining room decorated with pickaxes, wagon-wheel chandeliers and other nods to the town's roots.
Unwind at the historical Indian Hot Springs, where you can also book a room to enjoy outdoor private Jacuzzis that open to the mountains, a tropical biodome pool and caves where you can soak in the natural mineral water. Or choose from a variety of boutique hotels and accommodations along scenic Clear Creek for a true Colorado mountain experience.
MOUNT Blue Sky
Adjacent to Idaho Springs and due west of Denver is Mount Blue Sky (formerly Mount Evans), one of the state's 58 fourteeners. The road to the peak is a 14-mile ascent on the highest paved road in North America, rising to 14,200 feet above sea level. Keep on the lookout, as mountain goats, marmots and other wildlife can be seen grazing alongside the highway or even walking down the middle of it. Mount Blue Sky scenic and historic byway typically opens for the season Memorial Day weekend and remains open in its entirety through Labor Day with a partial opening to Summit Lake through early October (all weather permitting). You must book a timed-entry reservation ahead of time to visit Mount Blue Sky. Please plan ahead to help Do Colorado Right and Live WILD.
Get the Official Clear Creek County Visitor's Guide
Find things to do in Idaho Springs
Other Cities in the Region