Old West, New Adventure Just 20 Miles West of Denver
Less than an hour's drive from Denver, Clear Creek County offers robust helpings of Colorado's famous natural grandeur and storied Western history.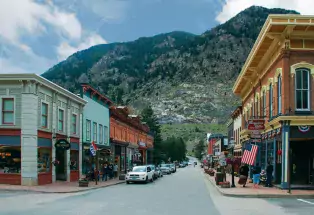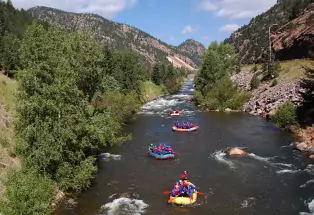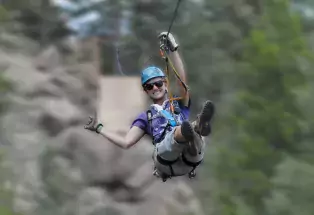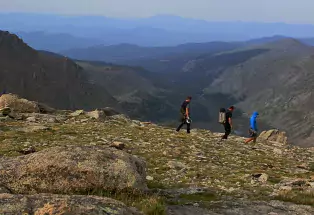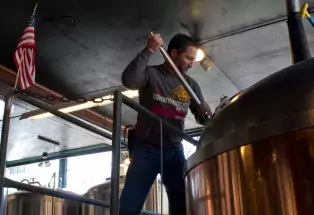 Mines once bustling with hopeful gold-seekers, colorful Victorian buildings set against rugged canyon walls, snow-flecked 14,000-foot peaks cradled by unscathed woodlands — there's so much to experience in Idaho Springs, Empire, Georgetown and Silver Plume.
Charming Mountain Towns
After the first significant discovery of gold during the Colorado gold rush was made in Idaho Springs in 1859, eager prospectors flocked to the area with hopes of hitting the mother lode — fueling the establishment of boom towns like Idaho Springs, Empire, Georgetown and Silver Plume. Many of the stately Victorian structures built during the time now house locally owned shops and restaurants in the high-altitude enclaves. Stroll streets lined with hidden gems, from art galleries exhibiting local photography and paintings and boutiques packed with Colorado-made treasures to craft breweries and distilleries featuring locally inspired concoctions.
Immersive Mine Tours
When visiting Idaho Springs, tour the Argo Mill and Tunnel, where you can visit what was once the longest mining tunnel in the world and walk through the original mill. Or visit the Phoenix Gold Mine, an operational mine that continues to extract gold, silver and copper from the earth. Groups of 10 or more can check out the Edgar Experimental Mine, an 1870s-era mine that that now serves as an underground laboratory operated by the Colorado School of Mines. Learn more about mine tours in Idaho Springs and Georgetown
Heart-Stirring Train Rides
A monumental piece of the county's mining heyday lives on in the Georgetown Loop Railroad, a train that's been chugging from Georgetown to Silver Plume since 1884. Complement a ride on the locomotive with a summer tour of the Everett or Lebanon Silver mines, complete with a look inside the underground tunnels. A beloved family attraction, the railroad runs from Memorial Day to January and offers several popular excursions during the fall and winter months, including Oktoberfest and Santa's Lighted Forest trains. Let C.J. Miner — Clear Creek County's mascot — help you discover more about the area's rich mining and railroad heritage
One-of-a-Kind History Museums
Step into a five-room brick schoolhouse that educated students from 1894 to 1959 at Silver Plume's George Rowe Museum, or find out how mining helped establish the town of Idaho Springs and the state of Colorado at the Idaho Springs Heritage Museum and U.S. Forest Service Visitor Center. The Underhill Museum in Idaho Springs offers a peek into the life of a mining engineer, while Georgetown's Hotel de Paris Museum showcases the original furnishings of the town's first luxury hotel and restaurant — founded by a famously eccentric French miner. Nearby, the Georgetown Energy Museum, Hamill House Museum and Alpine Hose No. 2 Firefighting Museum are also worth a visit. Check out more museums in Clear Creek County
Replenishing Hot Springs
Indian Hot Springs' steaming pools and baths — the closest hot springs near Denver — are fed with natural mineral-rich waters, which were considered sacred by the Ute and Arapaho people long before gold was discovered in the surrounding hills. In 1863, Dr. E.M. Cummings invested in the grounds and built a log and wood frame house near what was then called a "hot water mine" and charged patrons for health baths. Today, you can take a dip in the swimming pool or in a private bath, unwind in a geo-thermal cave constructed in the early 1900s or admire views of the surrounding area in an outdoor hot tub (particularly enjoyable as snowflakes fall from the sky in the winter). Relaxing spa treatments and accommodations on-site are also available. 
Epic Colorado Hiking, Biking, Whitewater Rafting & More
Home to four fourteeners (peaks 14,000 feet tall or higher) — Mount Bierstadt, Mount Blue Sky (formerly Mount Evans), Grays Peak and Torreys Peak — and a diverse roster of pre- and post-hike dining and lodging options, Clear Creek County is a great place to embark on a bucket-list climb. Hikers preferring less-challenging routes will find trails for all skills levels, some of which were traversed by gold seekers making their way across high-mountain routes like Jones Pass in the 1800s.
There are also many opportunities for cyclists in the area. Loveland and Berthoud passes and Mount Blue Sky and Guanella Pass scenic byways are favored by road bikers, while there are hundreds of miles of trails in the Arapaho National Forest and on public lands for mountain biking. Learn more about biking in Clear Creek County
Meanwhile, Clear Creek — the second-most rafted river in Colorado — offers a multitude of whitewater-rafting experiences, from mellow floats for families and first timers to wild, rapid-packed rides for veteran paddlers. Local outfitters can help you put together the perfect rafting package, which can often be paired with lodging and activities like rock climbing and ziplining.
Camping, fishing, off-roading and rock climbing are other ways to enjoy this vast outdoor playground. Explore other exciting activities in the county
Spellbinding Alpine Scenery
With a collection of amazing drives, Clear Creek County is home to the mountain scenery of your dreams. The highest paved road in North America, Mount Blue Sky scenic and historic byway, takes travelers from Idaho Springs to heights of more than 14,000 feet above sea level for vistas of glacier-carved valleys, snow-capped summits and alpine lakes. Lucky motorists might even spot a grazing mountain goat or bighorn sheep. Tip: You must book a timed-entry reservation for Mount Blue Sky. Visit Monday through Thursday and in the morning to avoid peak hours. The upper portion of the byway (Hwy. 5) is open Memorial Day through Labor Day, weather permitting. The lower portion (Hwy. 103 and Mestaa'Ėhehe Pass) is open year-round. When exploring our scenic natural areas, please be sure to Do Colorado Right and Live WILD.
Linking Georgetown and Grant (or I-70 to Hwy 285), Guanella Pass scenic and historic byway provides a unique look at a Rocky Mountain ecosystem, including lush subalpine meadows and dense spruce-fir woodlands. The fully paved byway is accessible to all types of motorists. Tip: Guanella Pass is open Memorial Day weekend through late November, weather permitting; the pass then closes at the Naylor Lake intersection, which is approximately 1 mile from the summit.
Other routes to consider include Oh My Gawd Road, an unpaved and rugged shortcut to Central City through a canyon studded with old mining sites; Fall River Road to Saint Mary's Glacier, lined with glimpses of historic buildings, barns and waterfalls; Berthoud Pass, offering killer Continental Divide views; and Loveland Pass, the state's highest mountain pass at 11,990 feet. Note: Once parking is taken along a byway or drive, no parking is available — vehicles are not permitted to park on the tundra or in any other non-designated areas. Learn more about scenic drives in Idaho Springs and Georgetown
Fall Beauty in Colorado
In autumn, leaf peepers delight at sights of the landscape bathed in shades of red, orange and gold, and incredible photo ops abound. Catch a panorama of Mount Bierstadt, Grays Peak and Torreys Peak accented with vibrant foliage at 11,665 feet on the Guanella Pass scenic and historic byway; or opt for a train excursion through glittering aspens on the Georgetown Loop or an ATV tour to spectacular Continental Divide viewpoints. Take a peek at other ways to see fall color in Clear Creek County
Unparalleled Winter Splendor
Winter is a truly extraordinary time in Colorado — and Clear Creek County is no exception. For skiers and boarders, Loveland Ski Area has 93 trails and a lauded ski school, and you'll find Echo Mountain's intimate ski area and snow-tubing hill less than an hour from downtown Denver. Meanwhile, the area's hiking trails transform into havens for snowshoeing when snow covers the ground; and other cold-weather activities include backcountry skiing and boarding, snowmobiling and ice skating. Find wintry things to do in Idaho Springs, Silver Plume, Georgetown and Empire
Stay in Clear Creek County
Choose from welcoming bed-and-breakfasts, mountain inns, snug cabins, modern hotels and motels, and unique accommodations like the Squaw Fire Mountain Outlook. Find places to stay in the area
Year-Round Fun
From ice racing at Georgetown Lake in January and February to the Fourth of July Celebration and Georgetown's annual Christmas Market, there are tons of happenings to plan your trip around. Browse events
Want More?