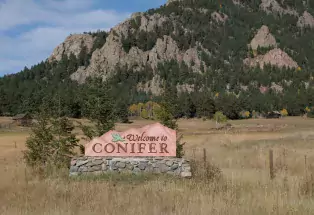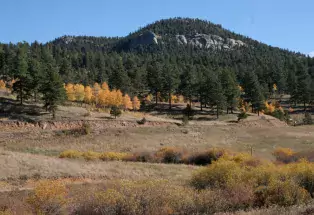 Hills in Conifer, now sprinkled with new homes, were first occupied by Arapaho, Ute and Cheyenne tribes who used the area as a hunting ground. American Indians were followed by merchants, trappers, ranchers and miners.
What does stand out is this town's abundance of natural beauty. The Pike National Forest, which runs right through town, provides a home for deer, elk, foxes, birds and rabbits. Historic Reynolds Park, about five miles outside Conifer, stands as a memorial to Conifer's pioneer era and has 17 miles of hiking and mountain-biking trails, as well as camping opportunities. Meyer Ranch Park, on the eastern edge of town, has stunning wildflower-dotted meadows in the summer and golden aspen groves in the autumn. 
For a dash of adrenaline with your nature, book a zipline tour with Denver Adventures to whoop with glee as you whoosh down the state's longest and fastest ziplines in the heart of the Rockies.
The community hosts 285 Winterfest in February, a celebration that includes snow-tubing competitions, snowman carving and a craft beer crawl, and OktoBEERfest in late September, a local favorite featuring tastings from more than 20 local breweries. 
In the late 1800s, roads carved into the foothills opened Conifer and surrounding areas to those in search of adventure and wealth. Today, a mix of rustic cabins and new, state-of-the-art homes peek from behind expanses of blue spruce, pine, fir and aspen trees. 
Other Cities in the Region