Eldorado Springs
South of Boulder, this tiny town sits below Eldorado Canyon and offers some of the finest rock climbing in the country — more than 500 routes in all, with names like Freight Train, Nightmare Block and Cloud Nine.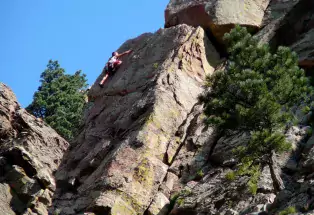 Stunning Eldorado Canyon State Park is the area's climbing hotspot, but it's also a perfect spot to hike, fish, snowshoe, watch climbers or picnic along South Boulder Creek. The park is comprised of two noncontiguous patches of land linked by a 5.5-mile hiking trail. There are 12 total miles of hiking trails to explore (with cross-country skiing and snowshoeing in the winter), and mountain bikers can hit the Walker Ranch Loop or Rattlesnake Gulch Trail. Climbers aren't the only wildlife here — mule deer, mountain lions, foxes, black bears, golden eagles and seven species of bats abide in this protected haven.
The historic Eldorado Springs Swimming Pool, which is fed directly from an artesian spring, opened in 1905 and was called "The Coney Island of the West." The pool, which is open annually from Memorial Day to Labor Day, is still cooling off all comers today. And the city's water isn't just for swimming. In 2016, Eldorado Springs was awarded the coveted Gold Medal for Best Municipal Water in the U.S. and second best in the world by Berkeley Springs International Tasting (touted as the Academy Awards of water tasting). 
Want More?
For an itinerary of things to do in the area, read Go Local in Boulder.
Other Cities in the Region