Go Local in Boulder
Playfully referred to as the People's Republic of Boulder, this city nestled in the foothills of the Front Range was recently named "Happiest City in the U.S." by National Geographic.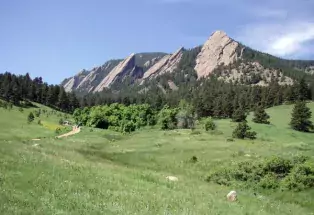 Boulder is known for progressive attitudes stemming from its hippie heyday, and today it's characterized by scientific research centers, the University of Colorado, artsy folks and hyper-athletic citizens.
Just 45 minutes from Denver's airport, with 45,000 acres of gorgeous and easily accessible wide-open landscapes, a walker- and biker-friendly compact downtown and plenty to do, you'll be just as inspired as the locals to enjoy a day packed with activity.
Morning
The pedestrian Pearl Street Mall is the city's hub. Fuel up at any of a dozen coffee shops alongside students and freelancers clicking away on their laptops. For a quintessential experience, drop into The Tune Up, a place to rent or shop for bikes, get coffee and hear live music. Then, spend time strolling the thoroughfare, lined with historic buildings that now house boutiques and longtime-favorite shops and restaurants, and populated by talented open-air performers. For more shopping, head to Twenty Ninth Street, an outdoor mall headlined by H&M, The North Face and Apple that also has a new outdoor beer garden called The Barrel.
Or plan a walking tour to see Boulder through its neighborhoods, historic areas and open spaces. If you're feeling on trend, gravel biking is on the rise in Boulder. Hook up with Full Cycle Bikes for rentals and group rides.
Saturdays and Wednesdays April–mid-November, stroll Boulder Farmers' Market, with a strict sell-what-you-grow policy and a lovely setting next to Boulder Creek. Chefs are often spotted shopping here, so you may taste market veggies during dinner. If you dig the market, you might also appreciate The Boulder County Farm Trail — 20 farms and other places where you can pick berries, pet animals, take a tour, check out a farm stand, picnic in a barn or take a class.
Creativity is found in every corner of Boulder, with more than 30 galleries, four museums, many theaters, dance studios and a large number of cultural performances each year. And two art-film houses share innovating filmmaking — the Boulder Theater downtown and the Boedecker Theater (aka "The Boe") at the Dairy Arts Center. 
Afternoon
Head next to the Dushanbe Teahouse to admire the intricate paintings and carvings adorning this building that was shipped, piece by piece, from Boulder's sister city in Tajikistan. Have a bite to eat and order a pot of tea from the teahouse's exhaustive menu before embarking on your afternoon adventures.
Discover the hiking trails that cater to avid outdoor lovers. National Historic Landmark Chautauqua Park has a network of trails to suit every level of hiker and will give you an up-close view of the Flatirons — the slanting slabs of red sandstone that are Boulder's most recognizable landmark — framed by a meadow that blooms with summer wildflowers. Summer hikers can ride the free Park-to-Park shuttle to designated areas in and around the Chautauqua Park area. The dog-friendly bus runs on Saturdays and Sundays from Memorial Day through Labor Day; just park your car downtown or at a free lot on the University of Colorado campus and hitch a ride. Stop into Chautauqua Dining Hall, which has been serving Boulderites since 1898.
There's also the Museum of Boulder, which hosts big-name traveling exhibitions from nationally recognized museums. Its rooftop deck offers some of the best views of the Flatirons in town.
Evening
Boulder's food scene is one of the reasons Bravo's "Top Chef" filmed a recent season in Colorado, so dinner at one of the city's restaurants is a must. Wander around the Pearl Street area for plenty of award-winning options, including Provencal-inspired Mateo; Pizzeria Locale's traditional Neapolitan pies (brought to you by the chefs at another Pearl Street favorite, Frasca Food & Wine); or The Kitchen, an eco-friendly bistro that pairs food with decadent brews. 
Additionally, Audrey Jane's Pizza Garage and Zoe Ma Ma are two lesser-known, stop-worthy gems that have been featured on Food Network's "Diners, Drive-Ins and Dives." The new Rosetta Hall is drawing big acclaim with international flavors.
After, visit a brewery to taste the local suds and take a tour — there are more than 20 now, pretty serious for a town of 100,000 people (not to mention two cideries, four distilleries, two wineries and one meadery)! In fact, Boulder has more breweries per capita than any other city in the U.S. Pick up a Boulder Ale Trail brochure at area visitor centers, take a walking tour from Boulder Brew Tours or catch a ride on the Colorado Brewery Bus. Then head to OAK at fourteenth, where Vanity Fair-featured mixologist Bryan Dayton demonstrates the art of handcrafted cocktails for your sipping pleasure.
Another thing brewing in Boulder is kombucha. Taste this fermented tea that's full of probiotics, beneficial yeast and enzymes at Upstart in north Boulder or Rowdy Mermaid inside Rayback Collective — a food-truck park/beer garden/live-music venue that's drawing those in the know east of downtown.
Get Sidetracked 
Boulder is close to Rocky Mountain National Park (1 hour), Eldorado Canyon State Park (15 minutes) and Golden Gate Canyon State Park (45 minutes).
In Longmont, you'll find golf courses, beautiful parks and a Certified Colorado Creative District. Survey the work of local artists in galleries and coffee shops. The area's brewery scene is also noteworthy. Left Hand Brewing Co. and Oskar Blues' Tasty Weasel Tap Room are longtime favorites, while 300 Suns, Longs Peak Pub, Großen Bart, Shoes & Brews and Wibby are more recent establishments (though no less loved!). For those seeking thrills, Mile-Hi Skydiving Center hosts excursions to Longs Peak for divers of all experience levels. 
You can confidently claim that Nederland, just a half hour outside of Boulder, will
 be unlike any other town in your vacation repertoire. Stroll downtown and experience the ambiance by browsing local shops and restaurants. Case in point it's the town where the Frozen Dead Guy Days event originated. Now held in Estes Park after a 20-year run in Ned, Frozen Dead Guy Days celebrates the remains of a man who died of a heart attack 
in 1989. His family keeps his body preserved in dry ice in the hopes that future science can revive him.
Winter Fun
While not a traditional ski town, Boulder was named a "Top Winter Town" by National Geographic Traveler for its proximity to skiing and charming downtown vibe. The magazine cites the ability to ski nearby Eldora Mountain Resort in the morning and head back down to town for a hike or bike ride in the afternoon. Non-downhill skiers love Eldora's Nordic Center, which offers lessons and trails designed specifically for cross-country skiing, skate skiing and snowshoeing.
Want More?
Check out our Field Guide itineraries: Off the Beaten Path in Boulder and Winter in Boulder.