Colorado State Park Profile: Golden Gate Canyon State Park
Golden Gate Canyon State Park is one of the closest state parks to the greater Denver area, providing a quick and easy escape route to the mountains. Nestled between the Front Range foothills and Rocky Mountains, Golden Gate Canyon is a patchwork terrain bustling with wildlife. Just a short drive from Golden can have you hiking, biking, snowshoeing, horseback riding, fishing, backpacking or hunting on 12,000 acres of public land.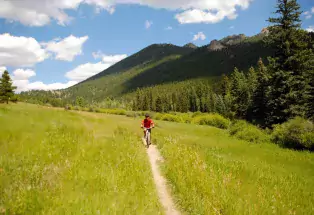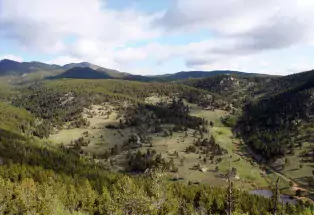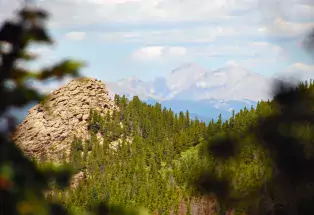 Visitors to Golden Gate Canyon seek solace in the purifying nature of the Rocky Mountains. Back in the day, however, this serene park used to be a focal point of industry in Colorado. Brave entrepreneurs arrived in search of gold in the mid-1800s, and fresh creeks supplied illegal distilleries during prohibition.
The 12 hiking and biking trails in the park intersect often and cover more than 35 miles, allowing you to create a personalized itinerary as you travel through aspen forests, wildflowers, grasslands and dense coniferous forests. Other standout features along the trail system are remnants of early settlement homesteads and 360-degree views of Colorado's alpine peaks.
Panorama Point Scenic Overlook is one of the most sought-after vistas at the park. Accessible by car or on foot, this popular attraction has Continental Divide views that span 100 miles. A map at the overlook helps identify landmark peaks such as Mount Evans and Longs Peak. A favorite way to reach Panorama is Mule Deer Trail, a moderate hiking and biking trail that leads through wildflower fields, aspen groves and sweeping hillsides — don't forget your camera for this picture-perfect scene.
Magic Moment in Golden Gate Canyon State Park
Away from city lights, Golden Gate Canyon State Park brings stargazing to a new level. Stay the night in one of the park's yurts, cabins or fully equipped campsites and secluded backcountry spots. Camping is one of the best ways to experience all the wonders of Colorado's second-largest state park. 
The Golden Gate Canyon is listed on our 99 Gorgeous Places in Colorado list. See what else made the list >>
Extend Your Trip
Historic Downtown Golden, Central City Opera, Indian Springs Resort, Mount Evans Scenic & Historic Byway, Gaming in Colorado: Lady Luck Lives in Cripple Creek, Central City & Black Hawk
Nearby Towns
Idaho Springs, Golden, Black Hawk, Central City, Denver
Want more? 
Explore more Colorado state parks >>
Take a look at our national parks, too >>
Photos: Copyright flickr/Yann Ropars; copyright flickr/Yann Ropars; courtesy of Colorado Parks & Wildlife.