Mount Evans
Idaho Springs
49
Bergen Park
Summer
Denver & Cities of the Rockies
Rockies Playground
Allow 2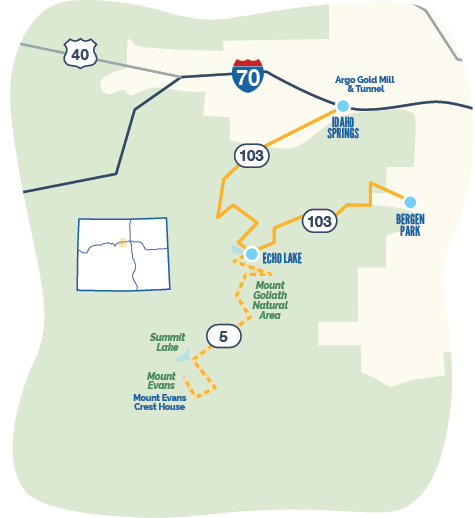 Trip Tips
Though the byway only requires 2WD, vehicles more than 30 feet in length are not recommended on this twisting-and-turning road.
There is a per-vehicle amenity recreation fee to enter Summit Lake Park, as well as to park at Mount Goliath Natural Area and the Summit of Mount Evans Interpretive site.
The best time to travel the byway is during weekdays and mornings. The road is open roughly Memorial Day through Labor Day, so plan your trip accordingly. Visit cotrip.org for up-to-date information.
See some of this byway's highlights — and read below for many more!
At the height of its 49-mile course, the highway reaches the summit of 14,130-foot Mount Evans. But before travelers can savor the cherry on top of this road-trip sundae, they have plenty of sights to see. 
Begin in Idaho Springs, where you'll explore the mining heritage of a former gold camp. While Argo Mill & Tunnel isn't supplying gold anymore, you can take a tour to learn about prospecting. Then pop into the Underhill Museum, where a professor at the Colorado School of Mines lived while surveying the mines in and around the city. 
Early risers who hit the road first thing in the morning can dip a giant cowboy cookie into a mug of joe at The Frothy Cup or savor hearty breakfast wraps at Two Brothers Deli. Then, explore the quintessential mountain town's history at the Idaho Springs Heritage Visitor Center & Museum before stopping for a slice of Beau Jo's Colorado-style pizza or hitting Tommy Knocker Brewery for a cold one. Take a jaunt down Miner Street to see the Downtown Commercial National Historic District — the buildings are now comprised of boutiques selling everything from souvenirs to fine art.
Feeling the need to relax before you drive up a fourteener — mountains that are over 14,000 feet? Take a soak in the natural hot spring pools at the historic Indian Hot Springs Resort. 
The byway leads south of town on Highway 103 to the junction of Highway 5, the entrance to Mount Evans Road. Passing through Echo Lake Park, have a bite to eat at the Echo Lake Lodge. Sitting at 10,600 feet, the restaurant in this log building serves up spicy buffalo chili. Grab postcards from the gift shop on your way out for the relatives back home.  
The pavement twists and turns until you've reached the treeless expanse of this alpine ecosystem. Riding along the exposed mountainside yields magnificent views of glacier-cut valleys and a seemingly endless horizon of sharp, rocky peaks. Mountain goats and bighorn sheep will be grazing along the roadside and will lazily stare back at you as you snap up photos of them — just be sure to keep a safe distance. You might spot marmots — large ground squirrels that live at higher elevations — on your drive, too!
You'll pass through the Mount Goliath Natural Area, home of the Dos Chappell Nature Center. The center has exhibits that interpret the adaptations of plants and animals living in the surrounding environments. Located behind the center, the lower trailhead to M. Walter Pesman Trail is a chance to get some fresh air on a 1.5-mile moderate hike. 
Trees aren't the only things you'll leave behind along this route — the guardrails also disappear up here, so use caution as you traverse the switchbacks to the top. Stop off to see Summit Lake Park, the highest city park in North America. See a variety of rare alpine-arctic plants while you walk along one of the trails. 
Once at the apex, the views will stretch across the entire Front Range, including a spectacular shot at 14,110-foot Pikes Peak to the south. Park your car and stretch your legs on a quick hike to the rocky summit. 
On your way back, check out the Crest House ruins. It was once the highest business structure in the United States and served as a restaurant, gift shop and tourist attraction. The stone building, with jutting angles and oddly shaped rooms, looks like it was dropped by a crane onto this craggy mountain top and makes for a great photo. 
After you descend back down Highway 5, take Highway 103 east to land in Bergen Park, where a stone pavilion is calling to host your picnic. Along the way, travelers can look north for an amazing view of 14,255-foot Longs Peak.  
Events on the calendar: Mount Evans Ascent Race, Clear Creek County Pack Burro Race in Idaho Springs, Pumpkin Smash in Idaho Springs, Bob Cook Memorial Mount Evans Hill Climb
Side Trips
Squaw Mountain Fire Lookout
Heading toward Bergen Park, take a detour down Forest Road 192.1 to get a peek at Squaw Mountain Fire Lookout, a historic granite structure built in the 1940s that can be rented out for the night.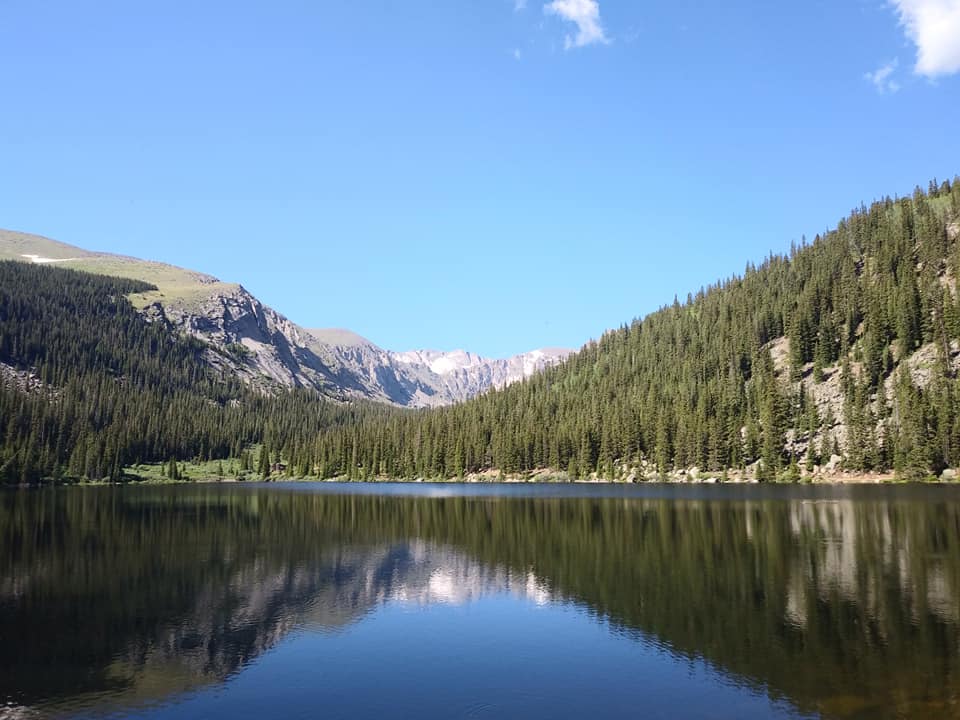 Chicago Lakes Trail
Departing from Echo Lake, Chicago Lakes Trail — a 6-mile out-and-back trail near Idaho Springs — is challenging, but the views of the lake and surrounding mountains are worth it.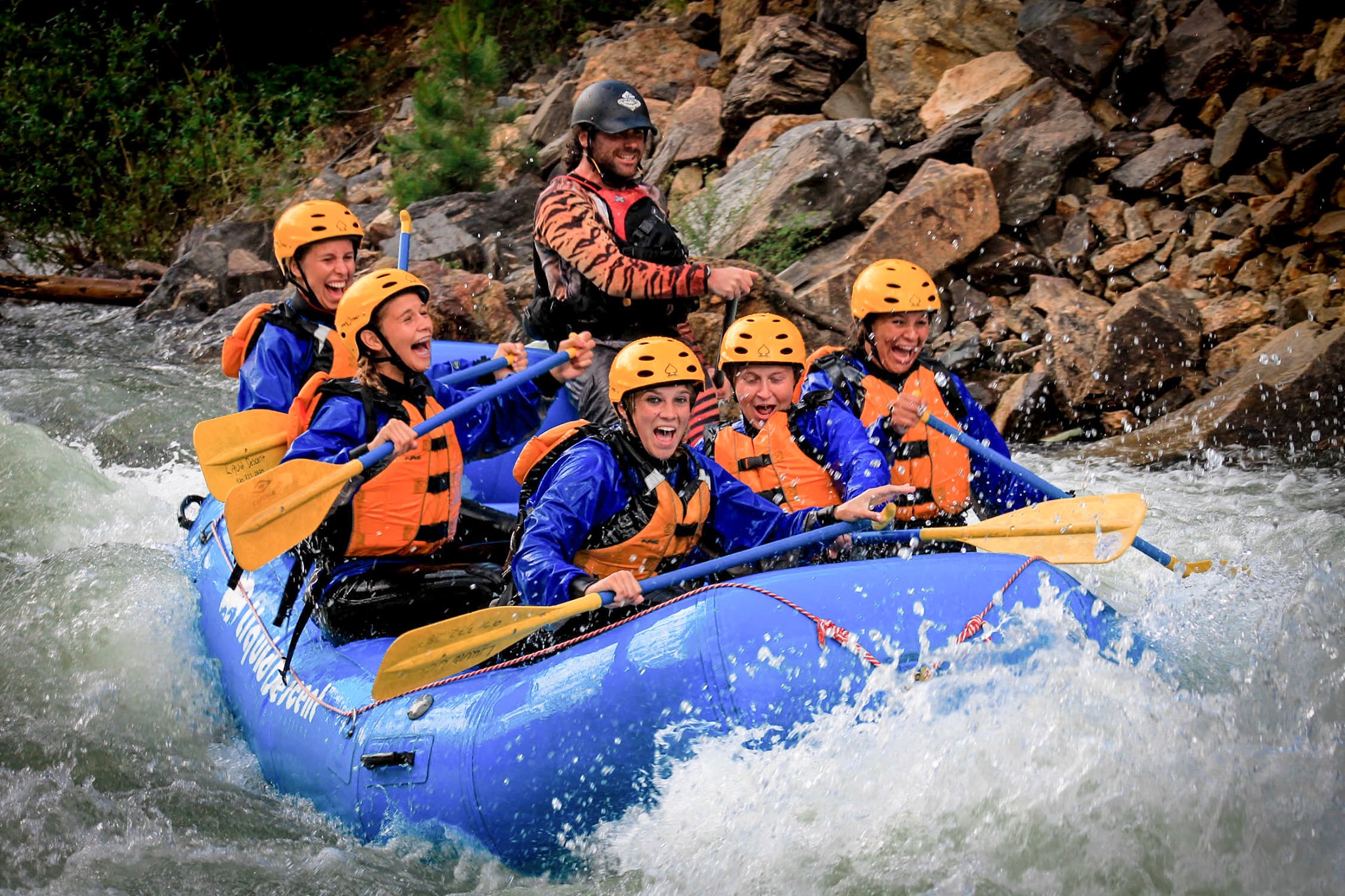 Whitewater rafting on Clear Creek
Rocket through the rapids on chilly Clear Creek with one of the many rafting companies in Idaho Springs and the surrounding area.
See All Byways