Pearl Street Mall: Beloved Boulder Attraction
It's hard to imagine a visit to the Boulder area that doesn't include at least one stop at Pearl Street Mall, the city's hub for dining, arts, shopping and, of course, people watching.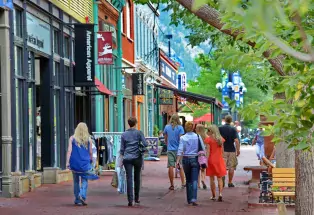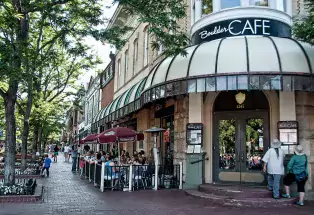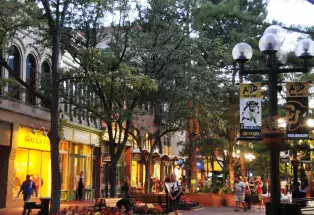 More than 1,000 businesses fill the red-brick, pedestrian-only thoroughfare, which runs roughly along Pearl Street from 9th Street on the west end to 21st Street on the east end — and radiating to the streets and alleyways that surround it.
Most of the things to see and do on Pearl Street are locally owned, bringing with them that special only-in-Boulder character — described as "nestled between the mountains and reality" just a half-hour's drive from Denver.
Year-round, Pearl Street is a gathering place for Boulderites and visitors, where musicians and performers fill the air with festive noise, kids clamber on play installations their parents once clambered on themselves, strolling couples peer in shop windows, patios are filled with joyful diners and cocktail-havers, holiday lights put folks in a festive mood and groups perch on benches and around flower beds to watch it all go by.
Boulder Restaurants
In 2010, Bon Appetit  named Boulder "America's Foodiest Town," and Pearl Street in particular has been hailed by Food & Wine for its focus on quality, local ingredients and innovating chefs.
You pretty much can't go wrong on a dining trek along Pearl Street and its surrounding streets, from long-time classics like Frasca Food & Wine, Lucile's Creole Cafe, Pasta Jay's and West End Tavern to the newer Black Cat, Centro Latin Kitchen & Refreshment Palace, The Kitchen, OAK at fourteenth and SALT the bistro. Find a full list of Pearl Street restaurants >>
And for snacks and treats, don't skip Peace, Love & Chocolate, Dedalus Wine Shop (excellent cheeseboards!) and any of several coffee houses (every Boulderite has their favorite!). And check out one of the state's most popular farmers' markets, which runs every Saturday April through November and Wednesday evenings May through October just a couple streets south of Pearl Street alongside Boulder Creek.
The Shops
It's impossible to encapsulate the breadth of shopping opportunities on and around Pearl Street. There are several places for the city's notoriously active population to gear up for outdoor adventures, and clothing boutiques, jewelry, activewear, kids and shoes stores keep everyone looking appropriately stylish and sporty throughout the city's four seasons. Distinctive home goods stores, culinary and gift shops, and art galleries help put a Boulder spin on all your shopping needs. Find a full list of Pearl Street shops >>
Pearl Street Mall Treasures
Several Pearl Street spots are Boulder institutions — places the locals come back to again and again, and the first place they bring visitors. A few of our favorites:
Dushanbe Tea House
A gift from Boulder's sister city in Dushanbe, Tajikistan, this handcrafted masterpiece was sent halfway around the world to dazzle Coloradans with its stunning handcarved mosaics and endless tea options, not to mention a delightful lunch, dinner and dessert menu. 
Art Mart
A great place for locally made art and Colorado souvenirs, this large store on Pearl Street is a popular place for poking around. Take home aspen-leaf ornaments, Flatirons photos, Colorado-flag-inspired artwork and many other only-in-CO works.
Boulder Book Store
Books are still cool at this indie Pearl Street book shop that's been serving Boulder's readers since 1973. Crowds form on its three floors near the employee recommendations, in the kids areas and at its in-house coffee shop. Catch authors doing readings, book clubs meeting and children's storytimes during your visit.
Into the Wind
Ground zero for passing time while waiting for friends and family, this hands-on "kite shop" is really so much more. Hundreds of colorful curiosities, wind-up toys, gag gifts, puzzles and games keep kids of all ages occupied.
Peppercorn
Every crevice, shelf, tabletop and cubby in this homegoods store is delightfully stuffed with hard-to-find kitchen gadgets, luxurious table linens, tasty European condiments, Colorado-made tapenades, rainbows of cool glassware and cookbooks for the ages.
Pedestrian Shops
For more than 40 years, this Pearl Street shoe mainstay has been hoofing Boulderites in footwear for all their adventures — active or otherwise. They're the go-to option when looking for comfort and practicality with a bit of style, much like the city they serve.
Want More?
Find other things to see and do in Boulder >>
All photos courtesy of Downtown Boulder.