Arapahoe Basin
The nation's highest, and one of Colorado's oldest ski areas also remains one of its most down-to-earth. Lift ticket prices for the original rope tow in 1946 cost $1.25 per day. Even now, ticket prices remain reasonable.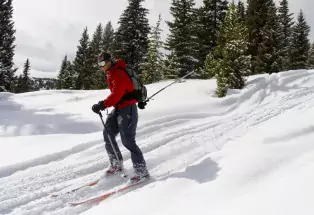 Hugging the Continental Divide at 13,050 feet, this winter playground is a place where you can park for free right at the base and be on a lift in minutes. Arapahoe Basin has a reputation for extreme terrain, short lift lines and The Beach, a parking lot/popular hangout spot.
A-Basin's altitude allows it to stay open later than many resorts (sometimes well into June), and the spring is known for a sun-and-fun atmosphere. For non-skiers, the resort offers a mountain-top adventure that gets you up the mountain so you can hike back down to the base area amid stunning views.
A handful of restaurants ensure you're replenishing all those spent calories. There's no lodging here; for a bed, head just down the pass to Keystone.
During the summer, the ski area opens with scenic chairlift rides, via ferrata, aerial park, farm-to-table dinners, hiking and biking trails, disc golf and more.
Other Cities in the Region