Beyond the National Western Stock Show: Rodeos in Colorado
Colorado's Western spirit is reincarnated at rodeos throughout the state, where traditional affairs such as bull riding, steer wrestling and livestock competitions are often paired with contemporary festivities, including concerts from big-name country entertainers, dog shows and super-cool contests (think craft beer and ski jumping).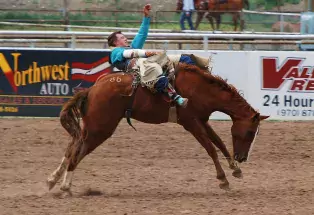 Our list of classic Colorado rodeos focuses on those that are more than 100 years old. Plan your trip around these Wild West favorites. 
While Denver's massive National Western Stock Show (Jan. 6–21, 2024) features the largest crop of rodeo competitions, there is an abundance of Colorado rodeo events during the summer and early fall, including:
Greeley, June–July
An event that started in the 1800s to honor local potato farmers, the Greeley Stampede has blossomed into a festival attracting more than 250,000 people annually. Attractions include the Professional Rodeo Cowboys Association (PRCA) Rodeo, a carnival, the Big Buckle Ball, a Mexican heritage rodeo and celebration, a demolition derby, a Fourth of July parade and a variety of concerts.
Meeker, July 4
The Fourth of July parade and fireworks are highlights during this 134-year-old Meeker tradition. In addition to rodeo action, the event features concerts, historical reenactments, a barn dance, pancake breakfast and 5K run.
Gunnison, July
Another celebrated Colorado tradition, Cattlemen's Days began in the 1800s as a time between spring calving and summer haying when ranchers took a break to test their riding and roping skills in competitions on Gunnison's Main Street. The event includes a PRCA Rodeo, livestock exhibitions and competitions, a ranch rodeo, parade, horse shows and more.
Pueblo, Aug.–Sept.
State fair entertainment and Colorado traditions converge yearly for a week and a half of Western fun. Don't miss PRCA Rodeo competitions, livestock shows and petting zoos, day and night carnivals, a parade, live concerts, craft-beer tasting and more deep-fried delights than you can imagine.
More Colorado Rodeos
• True Western Roundup, June, Durango
• Steamboat Springs Pro Rodeo, Fridays & Saturdays, late June–late Aug. (plus July 4), Steamboat Springs
• Snowmass Rodeo, Wednesdays, June–Aug., Snowmass
• Granby Rodeo Series, Saturdays, June—July, Granby  
• Red Ryder Roundup Rodeo, July, Pagosa Springs
• Brush 4th of July Parade & Rodeo, July, Brush
• Estes Park Rooftop Rodeo, July, Estes Park
• Pikes Peak or Bust Rodeo, July, Colorado Springs
• Chaffee County Fair, July, Salida
• Meeker Summer Rodeo Series, select dates, June–Aug.
• Buffalo Bill Days, July, Golden
• Deltarado Days, July, Delta
Want more?
View all Colorado rodeo event listings.
Check out some of our quintessentially Coloradan summer festivals.