Find Your Perfect Colorado Dude Ranch Adventure
Looking for days filled with horseback riding, fly-fishing, scenic hikes, campfires and other cowboy-style activities? Take a gander at a wide variety of dude ranch experiences, ranging from down-home, rustic and authentic Wild West to luxe Colorado chic.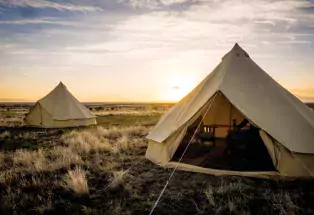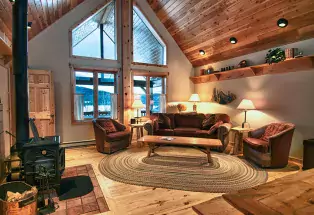 Roll-Up-Your-Sleeves Ranches
Want a vacation where you'll get down and dirty on a working ranch like a true cowboy or cowgirl? These experiences were created with you in mind.
Chico Basin Ranch, Colorado Springs
Rope and ride in the high prairie where you'll spend your days moving cattle and mending fences. Come nightfall, chow by candlelight under inky, star-dappled skies before hitting the hay next to a spring-fed lake. Downtime indulgences include hiking, birding and fly-fishing, while the annual Ranchlands Concert Series delights with performances and jam sessions.
Badger Creek Ranch, Cañon City
Go off-grid at this solar-powered green ranch west of the Royal Gorge. Some mornings you'll pack a saddlebag lunch and head out to sort the herd. Others you'll sprawl on sweet-smelling grassland to watch clouds tumble past. Animal life abounds here, so keep an eye out for mule deer, antelope, bighorn sheep and barn swallows as you mosey back to your bunkhouse or cowboy tent.
Zapata Ranch, Mosca
Lucky for this ranch, there's no law saying you can't rough it with a view: The homestead away from home boasts beguiling vistas of the Sangre de Cristo Mountains and Great Sand Dunes National Park and Preserve. When you're not wrangling bison, hike into the nearby dunes and meadows or camp out in the wilderness — cowboy style. And see if you can catch the appearance of the ever-elusive Medano Creek, which runs only in spring and early summer.
Rustic Retreats
These trip ideas are perfect for those whose ideal vacation requires a healthy blend of equine activities, outdoor adventure and peaceful nature — all made better with a little cowboy flair.
Bar Lazy J Guest Ranch, Parshall
A bottomless cookie box and riverside cabins are just two of the treats you'll find at the state's oldest continuously operating dude ranch. Fish the Colorado River's Gold Medal waters, whiz down mountain ziplines or take on the horseback challenge course. While there's no lack of family fun, parents never bellyache about getting some grown-up time thanks to all-day kids' programs.
Rainbow Trout Ranch, Antonito
Start your morning by hiking to watch the sun rise over the San Juan Mountains, with coffee and muffin in hand. Then, spend a day rafting, shooting, fishing or just plain unwinding on the porch and enjoying only-in-Colorado views. At night, kick up your spurs to live music before falling asleep to the sound of ponderosa pines quivering in the mountain breezes.
Drowsy Water Ranch, Granby
Warm wood paneling and cozy wool rugs make these streamside cabins so comfortable you may be tempted to stay inside all day. But river float trips, horseback riding, ziplining and more will lure you outdoors. With an under-five program, children of all ages can saddle up here, and the days wind down with kiddo-produced talent shows and line dancing.
Lap of Luxury
If you love the idea of the nature that comes with a ranch retreat but still want to spoil yourself on vacation — as you should — these getaways are sure to suit your fancy.
Vista Verde Guest Ranch, Clark
Ritz meets ranch at this Elk River Valley retreat, where Hinman Creek meanders through the property. Pack your days with wine tastings, yoga under the aspens or hikes to a former gold-mine camp at the base of Gilpin Falls. Evenings are spent roasting marshmallows over a crackling campfire or watching the mountain sunset from the warmth of a deck-side hot tub. In search of a romantic couples' getaway? The ranch also offers select adult-only times as well as romance packages.
4UR Ranch, Creede
Dude-ranch dreams come true high in the San Juan Mountains. You'll have easy access to natural indoor hot springs and a geothermal swimming pool, and each morning fresh coffee appears on your porch. Foodies can savor feasts ranging from cowboy cuisine (trout fillets cooked streamside) to fine dining (duck breast and ahi tuna), and the selection of Colorado craft beers and small-batch spirits is hard to rival.
Smith Fork Ranch, Crawford
Luxury-loving locavores will revel in seasonal fine-dining menus featuring organic produce grown on site, local grass-fed meats and fruits from neighboring orchards. Along with an outstanding food scene, expect breathtaking Rocky Mountain views, amazing stargazing programs and plenty of relaxing outings and activities. 
Want more?
Unplug at these relaxing resort vacations >>