Wild West Family Fun in Colorado Springs
Spend a day exploring Colorado's Wild West heritage in Colorado Springs, where gold-rush prospectors and pioneers flocked more than 150 years ago to make their fortunes and settle the beautiful territory at the base of Pikes Peak.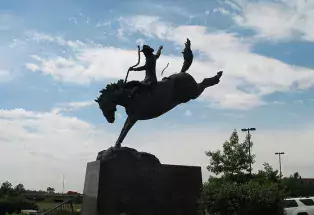 Pro Rodeo Hall of Fame & Museum of the American Cowboy
Starting your day at Colorado Springs' ProRodeo Hall of Fame will get you in a Western frame of mind. The only museum of its kind, it's a pure celebration of the skills and tradition of America's bull, bronc and bareback riders, barrel racers and calf ropers.
You'll be greeted by a life-size bronze sculpture of Casey Tibbs — six-time winner of the Professional Rodeo Cowboys Association saddle-bronc-riding championships and one of the most acclaimed riders of all time — atop his beloved horse, Necktie.
The museum's pride and joy is the National Finals Gallery, which overflows with hats, boots, chaps and other memorabilia from big-name championship cowboys such as Clark McEntire, Chris LeDoux and Charles Sampson. You can check out a timeline of the finals and gold world-champion belt buckles from the last several decades.
There are also videos on how the sport of professional rodeo evolved from frontier life, bios and stories about the hall of fame's inductees, changing exhibitions of Western art, an outdoor sculpture garden filled with likenesses of cowboy legends and their horses, and a replica rodeo arena.
Horseback Riding in Colorado Springs
Once you've been inspired by the champs, spend a little time in the saddle yourself. Academy Riding Stables leads beginners and experienced riders on one- and two-hour guided rides through the National Historic Landmark Garden of the Gods Park, home to otherworldly towering rock formations. The stables also offer a horse-drawn wagon tour of nearby Old Colorado City, the oldest town in the Pikes Peak area, established in the late 1800s by the brave folks who came out West in search of gold. Find more incredible horseback riding trips in Colorado >>
Ghost Town Museum
For families with children, the Ghost Town Museum is a must-see. The everyday artifacts in the re-created blacksmith's shop, saloon, general store and Victorian-era home — all from genuine ghost towns in the region — show what life was like during the Gold Rush era. Butter churning, gold panning, sarsaparilla sipping and other activities add to the fun.
Want more?
Take a historical Colorado train ride back in time >>
Check out our 3-day Colorado Springs & Pikes Peak Country itinerary >>
Photo: Copyright flickr/ChrisL_AK