Complete Guide to Train Rides in Colorado
Trains may seem old fashioned, but there's a reason they've held travelers' fascination since the 1800s. Take a step into the past and board one of Colorado's scenic train rides to see sights only reachable by rail.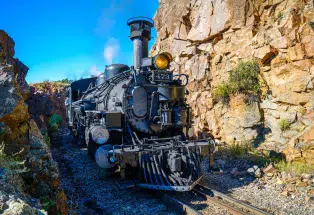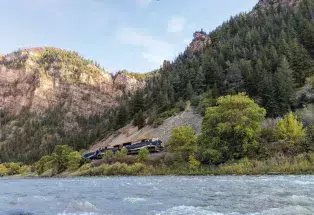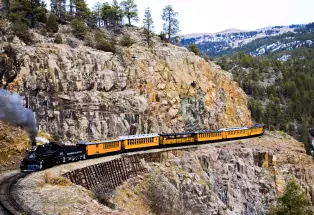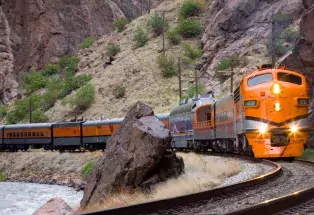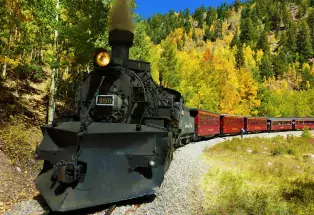 Carve through mountain gorges and find yourself hugging jagged cliffs on narrow gauge rails or traversing the banks of crystal-blue rivers and passing rushing waterfalls. These rails make exploring some of the state's most remote and untouched terrain accessible to all.
Whether you embark on multi-day cross country treks or an hour-long trip summiting America's Mountain, on these trips, you'll find a wealth of experiences. From wildflower excursions on scenic and historic railways to plush cars with modern luxuries as well as themed rides and beyond. Take a look at all the spectacular train rides in Colorado to travel the state in a whole new way.
Start & End Points: Antonito and Chama, NM
This 1880 vintage line is best known for its appearance in "Indiana Jones and the Last Crusade." A National Historic Landmark on wheels, the Cumbres & Toltec steams 64 miles over the Rocky Mountains along cliffs, through narrow Toltec Gorge, over 10,000-foot Cumbres Pass and through miles of evergreen and aspen forests. Over the course of 6.5 hours, you'll get to enjoy sprawling views of the dramatic landscape in every direction. The C&T's regular season typically runs late May through late October.
Bonus Tracks: In addition to daily trips, the Cumbres & Toltec runs several special trains throughout the year, with brunch and dinner excursions as well as outings with nature themes like geology and botany (wildflowers).
Start & End Points: Silver Plume and Georgetown
Connecting the mining towns of Georgetown and Silver Plume, the Georgetown Loop Railroad was an engineering marvel of the 1800s. This short and sweet 2-mile stretch of track just three feet in width traverses through the steep and narrow canyon, corkscrewing through craggy rock walls and gaining more than 600 feet in elevation on four bridges. The railroad was one of Colorado's first tourist attractions, and remains a must-see destination for those seeking a taste of history, beautiful sights and breathtaking thrills. The Georgetown Loop's regular season runs April through October.
Bonus Tracks: Passengers can hop off at the historic Lebanon Silver Mine, where they can pan for gold and learn some history while they're at it. The Georgetown Loop's regular season runs April through October.
Start & End Points: Durango and Silverton
Voted the No. 1 train in the country by USA Today readers in 2021 and 2022, this 1880s coal-fired, steam-powered locomotive runs 200 feet above the blue-green waters of the Animas River. As the Durango Train snakes along the river's banks and high canyon walls, expect views of majestic peaks, rushing waterfalls and remote natural areas like the Animas Gorge and San Juan National Forest. The 9.25-hour train ride includes a two-hour stop in the town of Silverton, or opt for the express ride at 5.25 hours if you're short on time. The train's regular season runs year-round.
Bonus Tracks: This train offers wilderness access during the summer months, allowing backpackers, day hikers and anglers to get on and off the train mid-route to access the San Juan National Forest and Weminuche Wilderness.
Start & End Point: Manitou Springs
The Broadmoor Manitou and Pikes Peak Cog Railway — the world's highest cog railway — is easily one of the most famous Colorado train rides, with its apex at the 14,115-foot summit of Pikes Peak. Your conductor narrates the 9-mile journey with fun tidbits on area history and local lore, while you soak up views of sweeping plains and the Continental Divide. After snapping pics at the top of this Colorado fourteener, make sure you try a  high-altitude doughnut at the Summit House, located in the recently constructed Summit Visitor Center. The cherry-red railcars keep a year-round schedule but check for weather closures.
Bonus Tracks: You can hike up Pikes Peak and ride the railway back down or take the train to the summit and bike down along the twisting Pikes Peak Highway. 
Start & End Points: Leadville and Climax
The Leadville, Colorado & Southern Railroad boasts the ideal route for seeing Colorado's vibrant wildflowers as it navigates hairpin turns along the upper Arkansas River Valley. Keep an eye out for Mount Elbert and Mount Massive, the state's two tallest peaks, as you listen to stories about Leadville's colorful mining past on this 2.5-hour round-trip journey. The train's summer schedule runs from late May to early October.
Start & End Point: Cañon City
The Royal Gorge Route Railroad whisks you along the curves of the Arkansas River and past the 1,000-foot-high granite walls of the canyon the railway is named for. Book a Vista Dome seat for spectacular views out of the curved glass roof and enjoy a gourmet meal in first class accompanied by a well-curated wine, brew and cocktail list. The train's regular schedule runs year-round.
Bonus Tracks: Exciting special train experiences feature sitting with the engineer, as well as thrilling murder-mystery dinners. Or pair your train ride with an afternoon royal tea service hosted at the Royal Gorge Mansion.
Start & End Points: Cripple Creek and Victor
Clamber onto the open-air cars of the Cripple Creek & Victor Narrow Gauge Railroad, pulled by a 15-ton "iron horse" of a locomotive. Several stops along the route of this family-owned railroad provide views and photo ops of Pikes Peak and old mining camps, as well as the opportunity to hear the train whistle ricochet off the walls of Echo Valley. The 45-minute ride is fully narrated, with the conductor sharing wonderful facts about the history and scenery around Cripple Creek. The train's regular schedule runs rain or shine, from late May to early October.
Start & End Points: Chicago and San Francisco, with six stops in Colorado between Fort Morgan, Denver, Glenwood Springs and Grand Junction
This daily Amtrak is not antique, but the California Zephyr has a reputation for being one of the most scenic train rides in the country. Sleeper cars, comfy seats, dining options and an observation car make this the choice for a spectacular Colorado train trip that showcases our varied landscape — from golden plains to snowy peaks with emerald, tree-ringed bases to high-desert mesas.
Start & End Points: Chicago and Los Angeles, with stops in Colorado at Trinidad, La Junta and Lamar
A second Amtrak line — the Southwest Chief — travels through the southeast corner of Colorado, providing access to classic American Southwest landscapes and attractions such as Bent's Old Fort and A.R. Mitchell Museum of Western Art. Ride options range from private family rooms to coach seats. And, of course, there's an observation car with sweet views.
Start & End Points: Moab, UT and Denver with a stop in Glenwood Springs
The opulent Rocky Mountaineer trains provide an escape from reality for four days between Colorado and Utah. Aboard the luxury glass-domed coaches, you'll spot towering red-rock arches, vast deserts and deep canyons. Locally inspired dining, a sparkling wine toast as you cross the Continental Divide and a night in Glenwood Springs round out the ride. This train experience is the winner of 13 prestigious travel awards, including Lonely Planet's winner of Best Sustainable Train for 2021.
Discover some of the best things to do in Colorado >>
Check out special winter train trips >>
Photo credit: (first image) Dan and Zora Avila; (second image) courtesy of the Rocky Mountaineer; (all other images) Colorado Tourism Office